National Seminar
Teaching Internal Medicine Residents Using Online Module
Topic: Education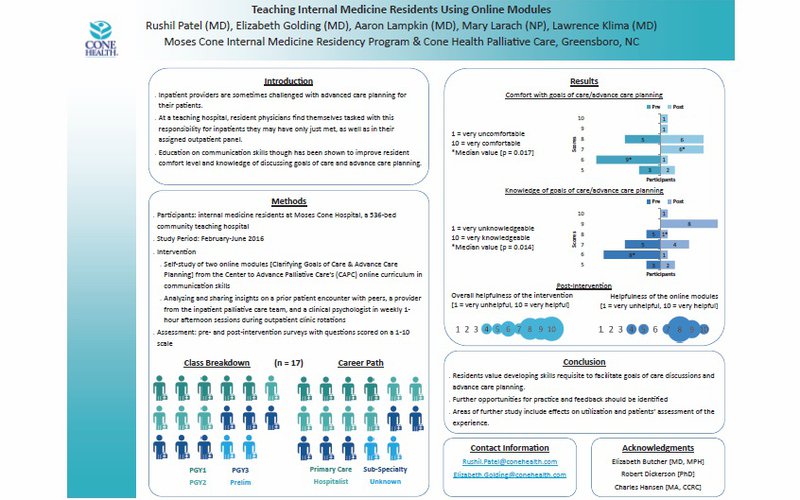 Inpatient providers are sometimes challenged with advanced care planning for their patients. At a teaching hospital, resident physicians find themselves tasked with this responsibility for inpatients they may have only just met, as well as in their assigned outpatient panel. Education on communication skills though has been shown to improve resident comfort level and knowledge of discussing goals of care and advance care planning. Methods: Internal medicine categorical residents (n = 15) and preliminary (n = 2) residents at a university-affiliated, community hospital learned the fundamentals of discussing goals of care and advance care planning using selected modules from the Center to Advance Palliative Care's (CAPC) online curriculum in communication skills during their outpatient clinic rotation from February through June 2016. Residents then discussed a patient encounter from their experience with their colleagues along with a member from the inpatient palliative care team and a clinical psychologist in weekly 1-hour afternoon sessions. A pre- and post-intervention survey was administered and recoded by a numerical identifier to assess the change in each resident's comfort level and knowledge level with conducting these discussions with their patients. Sessions were also audiorecorded to identify recurrent themes and insights for future follow-up projects. Results: Final analysis (n = 11) demonstrated a statistically significant improvement in the median difference between overall resident comfort level (p = 0.017) and knowledge (p = 0.014) of discussing goals of care and advance care planning. Several participants also expressed desires for additional opportunities to practice these skills under supervision by experienced providers. Conclusions: Residents value developing skills requisite to facilitate goals of care discussions and advance care planning. Further opportunities for practice and feedback should be identified. Reused with permission from the American Society of Clinical Oncology (ASCO). This abstract was accepted and will be presented at the 2016 Palliative Care in Oncology Symposium. All rights reserved.
Author
Resident Physician
Moses Cone Internal Medicine Residency Program
1200 North Elm Street
Greensboro, NC 27401
(336) 832-7272
Co-authors
Aaron Lampkin, MD – Cone Health
Elizabeth Golding, DO – Director, Cone Health
Lawrence Klima, MD – Director, Moses Cone
Mary Larach, Nurse Practitioner – Cone Health
Register Now
Register for the 2018 CAPC National Seminar and Pre-Conference Workshops by September 24 for Early Bird pricing.
Learn More and Register