National Seminar
Teaching End of Life at the Beginning of the Journey
Topic: Education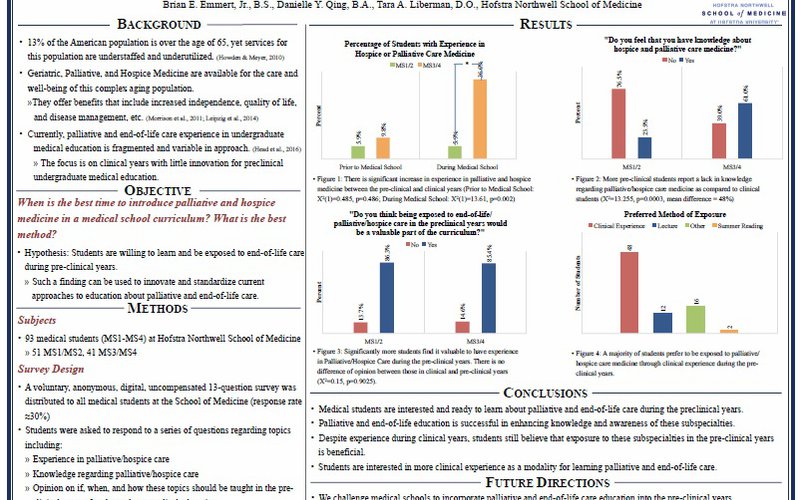 Introduction: With recent strides in medicine, a larger proportion of older adults are living longer with chronic disease. As a consequence, greater numbers of people will experience suffering, especially during the advanced stages of illness. Palliative and hospice medicine play an integral role in the care and well being of this demographic of patients. One potential area of significant improvement in the delivery of palliative and hospice care is early education of future doctors in the intricacies and importance of these subspecialties during medical school. However, topics such as end-of-life-care can be sensitive and there is concern regarding the most appropriate time to introduce palliative and hospice care within a medical school curriculum. More research is needed to elucidate students' readiness to learn these crucial subspecialties along their education.

Methods: A voluntary, uncompensated, 13-item survey was administered to all eligible students at Hofstra Northwell School of Medicine via e-mail blast. The survey canvassed students' knowledge about hospice/palliative care and opinion regarding the teaching of these subspecialties during the first two years of medical school. 
Results: Students over all four years had a strong interest in learning hospice and palliative care during the first two years of medical school (84% in favor, 16% not in favor; t=8.69, p < 0.0001). They reported interest in learning via early, hands-on clinical experience. Pre-clinical students reported having insufficient knowledge about hospice and palliative care as compared to students in their clinical years (26% for pre-clinical students as compared to 74% for clinical students; t=3.77, p=0.318). Finally, having clinical experience in palliative and hospice care during medical school improved knowledge of these fields among students (χ2=19.321, p < 0.001).
Conclusion: The present study demonstrated that students are interested, willing, and ready to learn about palliative and hospice care medicine during the first two years of medical school. Furthermore, education in these subspecialties proves worthwhile and beneficial for the students. Thus, we recommend integrating more hands-on experience in palliative and hospice care during the first two years of medical education.
Author
Hofstra Northwell School of Medicine
500 Hofstra Blvd.
Hempstead, NY 11549
(516) 242-7478
Co-authors
Brian Emmert, BS
Danielle Qing, BA
Tara A Liberman, DO