National Seminar
Study of ICU Patients Transferred to a Palliative Care Unit
Topic: Quality Improvement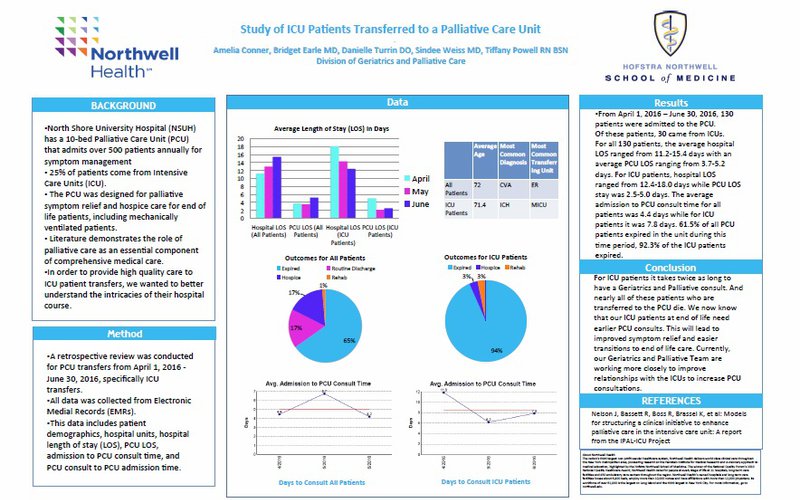 Introduction: North Shore University Hospital (NSUH) has a 10-bed Palliative Care Unit (PCU) that admits over 500 patients annually for symptom management.  25% of these patients come from an Intensive Care Unit (ICU). The unit was designed to implement palliative symptom relief and hospice care for end of life patients including mechanically ventilated patients. Literature demonstrates the role of palliative care as an essential component of comprehensive medical care. In order to provide high quality care to ICU patient transfers, we wanted to better understand the intricacies of their hospital course.
Method: A retrospective review was conducted for PCU transfers from April 1, 2016 - June 30, 2016 and specifically ICU transfers. All data was collected from Electronic Medical Records (EMRs). This data included patient demographics, hospital units, hospital length of stay (LOS), PCU LOS, admission to PCU consult time, and PCU consult to PCU admission time.
Results: From April 1, 2016 – June 30, 2016, 130 patients were admitted to the PCU. Of these patients, 30 came from ICUs. For all 130 patients, the average hospital LOS ranged from 11.2-15.4 days with an average PCU LOS ranging from 3.7-5.2 days. For ICU patients, hospital LOS range from 12.4-18.0 days while PCU LOS stay was 2.5-5.0 days. The average admission to PCU consult time for all patients was 4.4 days while for ICU patients it was 7.8 days. 61.5% of all PCU patients expired in the unit during this time period, 92.3% of the ICU patients expired.
Author
North Shore University Hospital at Northwell Health
300 Community Drive
Manhasset, NY 11030
(917) 837-2030
Co-authors
Amelia F. Conner
Bridget Earle, MD
Danielle Turrin, DO