National Seminar
Speaking from the Heart: Heart Failure Goals beyond Advance Care Planning
Topic: Quality Advance Care Planning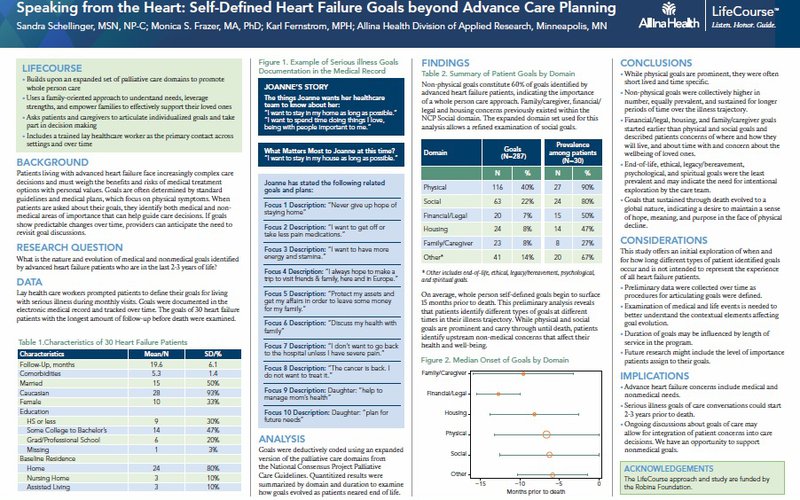 Honoring end-of-life wishes involves providing care in concordance with stated life sustaining treatment preferences usually specified in completed advance directives and advance care planning discussions. Heart failure is the most common admission diagnosis for older adults with high mortality and readmission rates and afflicts the whole person and burdens families over years. Knowing the goals and wishes of persons with serious illness is essential for individualizing care throughout the illness trajectory beyond care at the end of life.
This study aims to understand the evolution of medical and non-medical serious illness goals by asking advanced heart failure patients to describe what is most important to them. As part of LifeCourse, patients received monthly in-person visits by a lay health care worker, called a care guide. Care guides promoted whole-person, family-oriented care using assessment tools, whole-person and goals of care questions, and advance care planning discussions. Patients' self-defined goals and advance care plans were documented in the medical record. We examined the medical records of 30 heart failure patients who received supportive care greater than 347 days before death.
A qualitative analysis of medical record data---progress notes, advance care planning documentation, goals manager flowsheet---affirmed goals evolved over the illness experience. Goals that originally focused on physical (66%) acquired psycho-social, emotional, and spiritual facets as patients came closer to end of life. Non-medical goals (27%) occurred in the middle of the illness experience. An emotional or psychological element was often (80%) attached to goals. Family/caregiver goals (26%) and aspirational goal statements (13%) appeared consistently throughout the illness experience. Shifts in priorities along the illness trajectory identified specific turning points where proactive goals of care discussions could occur to realign care based upon the current health status and whole-person needs.
The dynamic nature of serious illness requires ongoing goals of care discussions that include the non-medical aspects of disease specific and life-sustaining treatments. Understanding what matters most and self-defined goals promote collaborative decision making that allows for individualized care and a whole person experience.
Author
Nurse Practitioner, Senior Research Scientist
Allina Health, Division of Applied Research
2925 Chicago Avenue, So.
Minneapolis, MN 55407
(612) 262-1444
Co-authors
Karl Fernstrom, MPH
Monica Frazer, MA, PhD
Scott Curran, MSW