National Seminar
Scoring Suffering to Address Patient Needs
Topic: Quality Improvement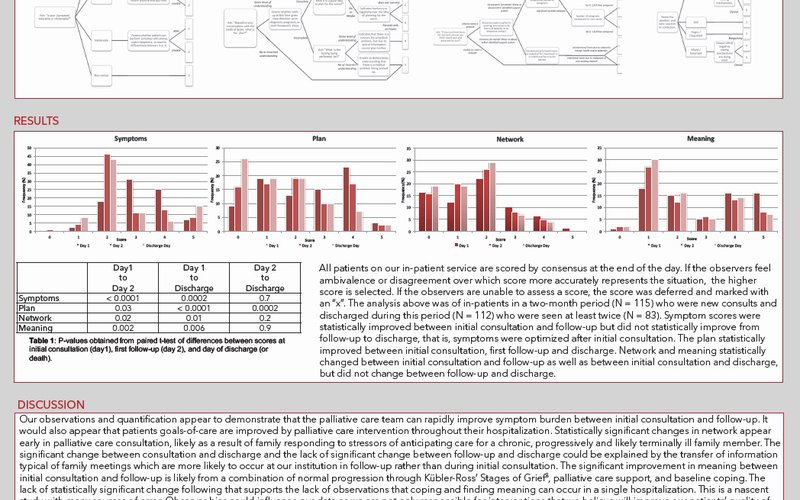 Introduction: Palliative care patients have been scored by their symptom burden and performance, but there is little standardization of their multidimensional suffering, needs, and wants. Maslow's Hierarchy of Needs is a model for describing these needs as physiological, safety, love/ belonging, esteem, and self-actualization. The functional pain score is a validated method of scoring pain based on patient report and provider assessment. Using these two frameworks, the "Maslow Score" seeks to score the current patient situation based on symptom burden, plan, network, and meaning.
Methods: The scores are four-digit codes describing the patient situation at a given time based on team consensus. Each digit is a score from most secure, 0, to most vulnerable, 5. Both written examples and an algorithmic approach have been provided to obtain each score.
Results: Morning huddle has been expedited by utilizing the "Maslow Scores" recorded the previous day. Changes in the clinical situation can be re-scored and compared against a team standard to improve both hand-off and follow-up needs. This triaging helps direct team resources as to whether patients should be reassessed by the entire team or specific members. The utilization of this scoring system has improved discussion and assessment of our patients from an interdisciplinary perspective.
Discussion: The "Maslow Score" appears to have improved the quality of care that our service delivers by improving efficiency. Further development and study is needed to standardize and validate our method.
Author
Assistant Medical Director Medicine
Carle Hospital and Physician Group
611 W Park Street
Urbana, IL 61801
(217) 383-6744
Co-authors
Barb Nation, RN, CHPN
Catherine Simpson, MSW, LCSW
Emily Malecki, ACNP-BC
Michael Aref, MD, PhD, FACP, FHM
Tim Staker, MDiv, BCC