National Seminar
Rounding Third: Bringing Pediatric Palliative Care Home
Topic: Pediatrics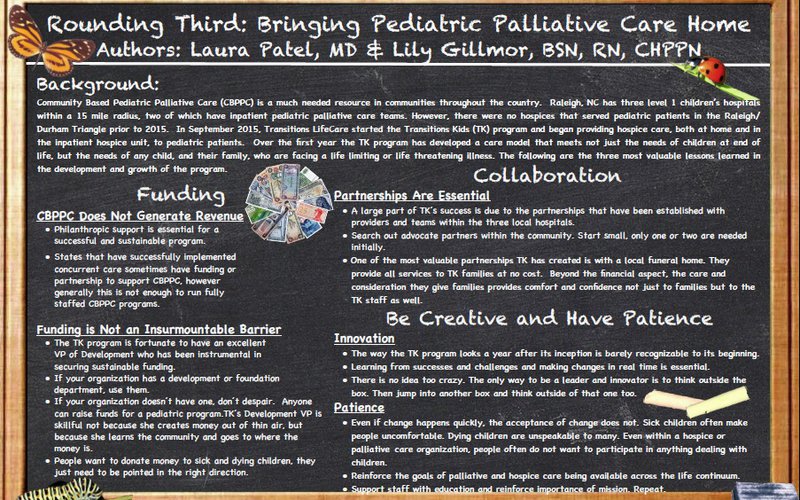 Despite a rise nationally in the number of children living with life limiting and life threatening illnesses, the availability and quality of community based pediatric palliative care varies widely state by state.  A contributing factor to this variation is the Affordable Care Act's concurrent care mandate. A few states have created successful community based pediatric palliative care programs using concurrent care, however the majority of states have done the bare minimum in offering these services. North Carolina is a state that has significantly limited community based pediatric palliative care services. With the introduction of concurrent care there was hope that there would be an increase in both the development and utilization of community based pediatric palliative care services. Unfortunately in the 6 years since the ACA, NC has made it difficult to utilize concurrent care and the lack of services has continued. Raleigh, NC has three level 1 children's hospitals within a 30 mile radius (two with inpatient pediatric palliative care teams), but until 2015 had no community based pediatric palliative or hospice care programs.  Recognizing this gap in care, in the fall of 2015 Transitions LifeCare (a Raleigh, NC based non-profit company offering adult palliative and hospice care services) created a community based pediatric palliative and hospice care program, Transitions Kids.  A model of care was created that provides comprehensive community based supportive care to both pediatric patients and their families. This poster describes the evolution of the model, the role of each team member, outcomes of the program in the first year, and issues surrounding financial sustainability. With a national shortage of community based pediatric palliative care programs our hope is this model can serve as a guide to creating and sustaining a program through deliberate planning and philanthropy. 
Author
Pediatric Program Manager
Transitions LifeCare
250 Hospice Circle
Raleigh, NC 27607
(919) 215-9391
Co-authors
Christopher Thompson, MD
Laura Patel, MD
Lily Gillmor, BSN, RN, CHPPN
Register Now
Register for the 2018 CAPC National Seminar and Pre-Conference Workshops by September 24 for Early Bird pricing.
Learn More and Register