National Seminar
Reducing Readmissions Through Communication of Teams
Topic: Continuity of Care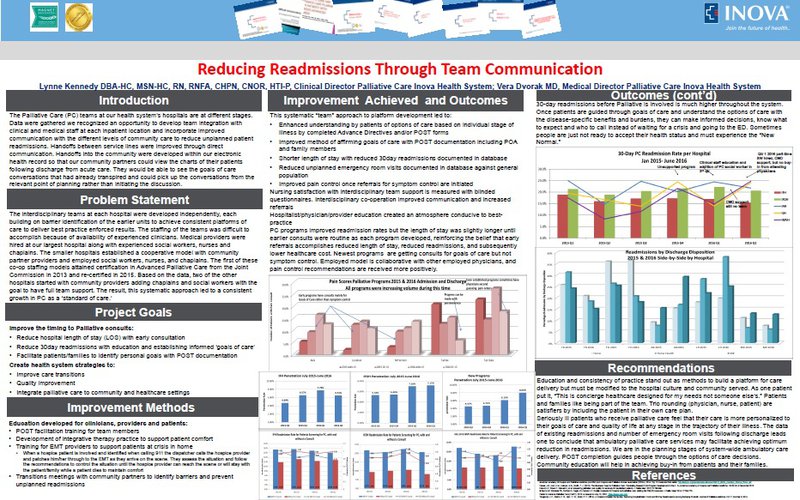 The Palliative Care teams at each of our Health System's Operating Units are at different stages of development. As data was gathered we recognized an opportunity to develop team integration with clinical and medical staff at each in-patient location and incorporate improved communication with the different levels of community care to reduce unplanned patient re-admissions. Handoffs between service lines were improved through direct communication. Handoffs into the community were developed within our electronic health record (EHR) function so that our community partners could view the charts of their patients following discharge from acute care. They would be able to see the levels of Goals of Care conversations that had already transpired and could pick up the conversations from  the relevant point of planning rather than initiating the discussion from the beginning again.
Physicians, who had previously consulted the PC team later in the trajectory of the patient's illness began considering earlier referrals. Physicians who had not considered the team's intervention, began thinking about involving palliative providers. The result of this systematic approach led to a consistent growth in PC referrals, incorporation of PC as a 'standard of care.' The positive impact on hospital data indicated improved pain control; nursing satisfaction with Interdisciplinary Team support and interdisciplinary co-operation strengthened the program. The hospitalists, who were getting monthly interactions during their staff meetings, increased referrals. The hospitals, where PC programs were just starting, improved readmission rates but the length of stay was slightly longer, reinforcing the belief that early referrals, accomplishes both reduced length of stay, reduced readmissions, and subsequently lower healthcare cost.
Author
Director Palliative Care Inova Health System
Inova Fair Oaks Hospital
Service Line Office 3600 Joseph Siewick Drive
Fairfax, VA 22033
(703) 391-3685
Register Now
Register for the 2018 CAPC National Seminar and Pre-Conference Workshops by September 24 for Early Bird pricing.
Learn More and Register