National Seminar
RAIs for Use Within Geriatric Care Plans for Home-Based Palliative Care
Topic: Staffing Models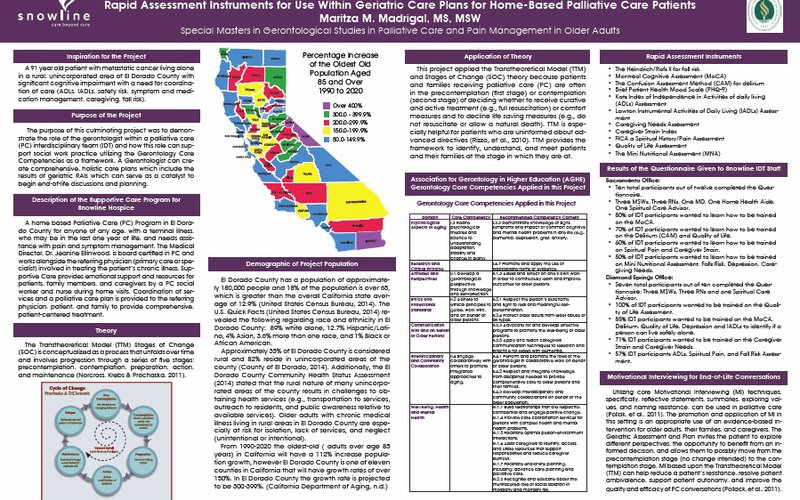 Older at-risk adults with chronic, terminal illness would benefit from home-based Palliative Care (PC) that includes a comprehensive, holistic assessment of a patient's needs, strengths, and vulnerabilities created by a gerontologist. Currently, there is a critical need for gerontologists to be part of PC interdisciplinary teams (IDT), alongside social workers, nurses, and physicians. The goal of this culminating project was created to identify health risks of older adults receiving PC utilizing the Association for Gerontology in Higher Education (AGHE) Core Competencies as a framework.  Gerontologists within PC practice can support social workers, who often lack geriatric-specific training in their educational curriculum, by creating comprehensive, holistic care plans that address individual patient goals for end-of-life treatment. Patients with a chronic disease or a terminal illness face many options regarding the care and treatment they wish to receive. A gerontologist can explore a patient's motivation and values by implementing the concepts of Transtheoretical Model (TTM) Stages of Change (SOC) through the use of Motivational Interviewing (MI). The conversation regarding end-of life-care would be created based upon the stage the patient is currently in (i.e., pre-contemplation, contemplation, preparation, or action) assuring it to be completely patient-centered. In subsequent meetings with patients and families, a reappraisal of those decisions would promote informed end-of-life planning and self- management of an ongoing illness. A survey administered to Snowline Hospice IDT demonstrated that 85% of participants desired increased training in common geriatric assessment tolls. This project demonstrates a new model of home-based PC delivery to at-risk older adults living in rural areas. El Dorado County is experiencing close to a 400% increase in those age 85 and older and 82% of the  population live in unincorporated areas of the county and 35% are considered rural. Geriatric care plans which include rapid assessment instruments can be the catalyst for discussions regarding end-of-life planning for patients and families and provide an overall comprehensive plan for the patient and family.
Author
Supportive Care Social Worker
Snowline Hospice
6520 Pleasant Valley Road
Diamond Springs, CA 95619
(530) 621-7820
Register Now
Register for the 2018 CAPC National Seminar and Pre-Conference Workshops by September 24 for Early Bird pricing.
Learn More and Register