National Seminar
Quality Palliative Care: Are We Delivering Our Very Best?
Topic: Quality Improvement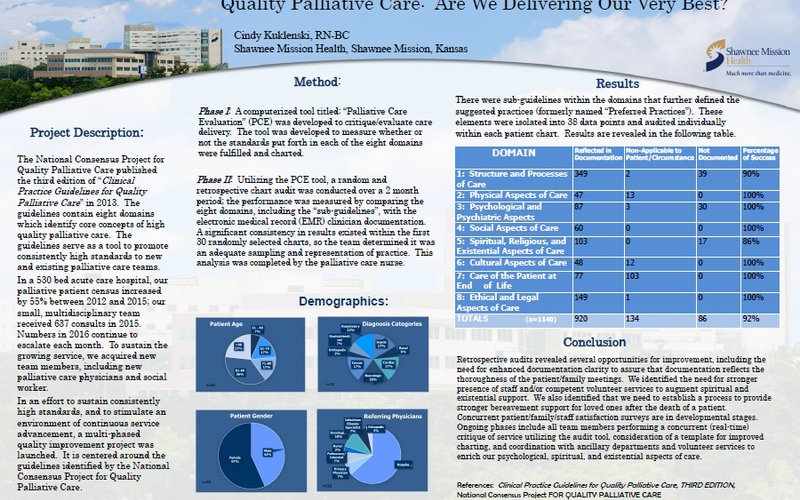 The National Consensus Project for Quality Palliative Care published the third edition of "Clinical Practice Guidelines for Quality Palliative Care" in 2013.  The guidelines contain eight domains which identify core concepts of high quality palliative care.  The guidelines serve as a tool to promote consistently high standards to new and existing palliative care teams.
In a 530 bed acute care hospital, our palliative patient census increased by 55% between 2012 and 2015; our small, multidisciplinary team received 637 consults in 2015.  Numbers in 2016 continue to escalate each month.  To sustain the growing service, we acquired new team members, including new palliative care physicians and social workers. 
In an effort to sustain consistently high standards, and to stimulate an environment of continuous service advancement, our team launched a three-phased quality improvement project, centered around the guidelines identified by the National Consensus Project for Quality Palliative Care.
Phase I:  A tool titled: "Palliative Care Evaluation" (PCE) was developed to critique/evaluate care delivery, addressing whether or not the standards put forth in each of the eight domains were fulfilled.
Phase II:  Utilizing the PCE tool, a retrospective gap analysis was conducted; the measurement was between the eight domains (as appropriate), and the electronic medical record (EMR) clinician documentation.   This analysis was completed by the palliative care nurse, then reviewed with the team members. 
Phase IIIa:  Currently underway:  team members including physician, nurse, and social worker, are completing the PCE tool after each initial patient/family meeting in "real time".   The team then collaboratively reviews the results. 
By reviewing each members' perspective on successes and/or challenges, the team is provided the opportunity for safe and immediate debriefing and evaluation.   Plans for subsequent follow-up with patient and family ensue. 
Phase IIIb:  The palliative care nurse then reviews the EMR to ascertain whether the documentation reflects those standards of best-practice.
This poster will reveal the PCE tool in Phase I, disclose the results of Phase II, and give updates on the ongoing Phases IIIa and IIIb.  Patient demographics will be included. 
Most importantly, this poster will discuss how, by utilizing these standards, our team is improving the way we deliver palliative care to our patients.
Author
Pain Management/Palliative Care Nurse
Shawnee Mission Health
9100 West 74th Street
Shawnee Mission, KS 66204
(913) 676-2224