National Seminar
A Primary Palliative Care Pathway for Hospital Medicine
Topic: Quality Improvement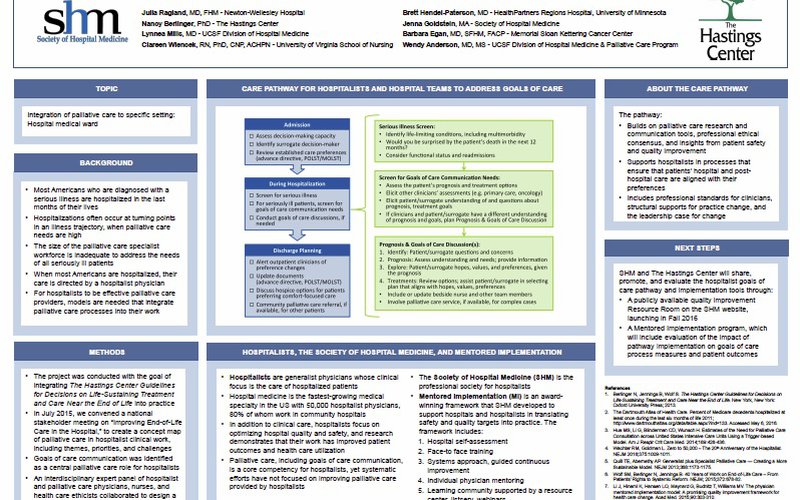 Background
Most Americans experience hospitalization in the last year of life. Unwanted medical interventions near the end of life, and their associated costs, have been a national concern for decades. Hospital palliative care consultation programs increase health care value by helping to ensure that patients do not receive unwanted treatments.  However, the size of the palliative care specialist workforce relative to need creates obstacles to routine access for seriously ill patients. In recent years, palliative care specialists have articulated principles of "generalist" or "primary" palliative care reflecting core components that can be delivered by non-specialists.
Integrating Primary Palliative Care into Frontline Hospital Care
The frontline hospital clinician is a crucial partner in hospital-based efforts to significantly expand the palliative care workforce and augment the consultation model, with the goal of meeting needs that routinely arise for seriously ill patients. Hospital medicine is the fastest-growing medical specialty in the United States. Nationwide, 44,000 hospitalist physicians, 80 percent of whom work in community hospitals, are responsible for the care of seriously ill hospitalized patients from admission through discharge, and for improving patient outcomes and health care utilization. Hospital medicine has developed award-winning models to translate safety and quality targets into clinical practice.
The Society of Hospital Medicine (SHM) has now joined forces with The Hastings Center, the source of landmark Guidelines on treatment decision-making and care for seriously ill people, to develop a model to integrate primary palliative care into normal hospital care. The SHM-Hastings Center team convened a national stakeholder meeting in July 2015 on "Improving End-of-Life Care in the Hospital," which produced a concept map of major themes, priorities, and challenges in translating proven processes of palliative care consultation into frontline clinical work.
Designing a Primary Palliative Care Pathway for Hospital Medicine: Result
An interdisciplinary Expert Panel of hospitalists, health care ethicists, and experts in acute-care nursing from the American Association of Critical-Care Nurses (AACN) collaborated to design a care pathway to support hospitalists initiating a key component of primary palliative care: discussing prognosis and goals of care and ensuring that patients' hospital and post-hospital treatment and care are aligned with their preferences.  The Expert Panel's work builds on research and insights from palliative care, patient safety, and quality improvement. This focused interdisciplinary effort to articulate and establish a new norm in hospital medicine aims to fill a pressing need for a practical, sustainable model to deliver high-value primary palliative care in the hospital setting.
Next steps
The new pathway, practice standard, and implementation tools will be publicly available as a quality improvement Resource Room on SHM's web-based platform starting in Fall 2016, and will be shared through professional meetings, journals, and other dissemination venues.  Future research will study implementation to create recommendations for model adaptation and refine evaluation metrics to support wider use.
Acknowledgments
This project was made possible by a major grant from the Milbank Foundation and was developed through an R3 grant from the Donaghue Foundation.
Author
Center for Hospital Innovation and Improvement, Society of Hospital Medicine and The Hastings Center
1500 Spring Garden Street, Suite 501
Philadelphia, PA 19130
(617) 243-6573
Co-authors
Barbara Egan, MD, SFHM, FACP – Memorial Sloan Kettering Cancer Center
Brett Hendel-Paterson, MD – Regions Hospital
Clareen Wiencek, RN, PhD, CNP, ACHPN – University of Virginia School of Nursing
Jenna Goldstein, MA – Society of Hospital Medicine
Julia Ragland, MD, FHM – Newton-Wellesley Hospital
Lynnea Mills, MD – UCSF School of Medicine
Nancy Berlinger, PhD – The Hastings Center
Wendy Anderson, MD, MS – UCSF School of Medicine