National Seminar
Prepped: Guiding Patients toward Productive Visits with their Physician
Topic: Leveraging Technology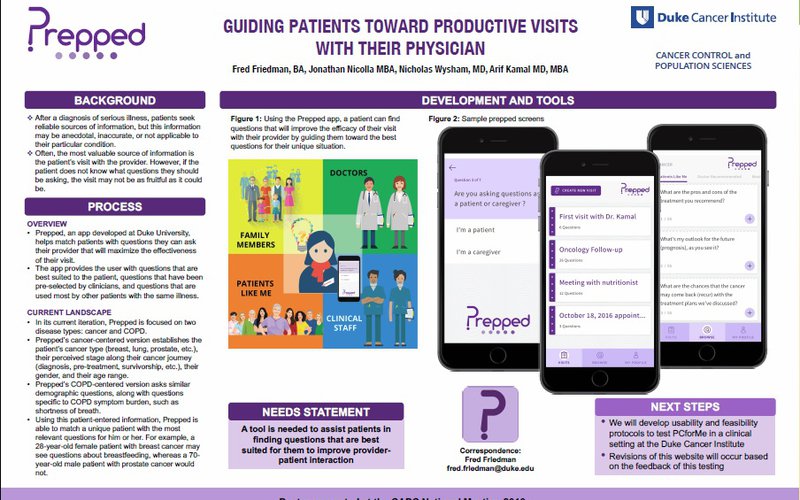 Patients who receive a diagnosis of serious illness may find themselves with a significant amount of stress. While the internet is a great source of information, it may neither be correct, nor be pertinent to the specifics of their condition. Often, the most valuable source of information is the patient's visit with their provider. However, if the patient does not know what questions they should be asking, the visit may not be as fruitful as it could be.
A team of researchers at Duke University has created an app called Prepped to help bridge this gap. Prepped allows patients (or caregivers) to find questions that are best suited to the patient, questions that have been pre-selected by clinicians, and questions that are used most by other patients with the same illness. The patient is then able to create a list of questions that correspond with each visit to see their physician.
Currently, Prepped is focused on two disease types: cancer and COPD. Prepped's cancer-centered version establishes the patient's cancer type (breast, lung, prostate, etc.), their perceived stage along their cancer journey (diagnosis, pre-treatment, survivorship, etc.), their gender, and their age range. Prepped's COPD-centered version asks similar demographic questions, along with questions specific to COPD symptom burden, such as shortness of breath.
Using this patient-entered information, as well as tags on each question, Prepped is able to match a unique patient with the most relevant questions for him or her. For example, a 28-year-old female patient with breast cancer may see questions about breastfeeding, whereas a 70-year-old male patient with prostate cancer would not. This level of personalization will help a patient zero in on the best questions for them.
Prepped was designed with the intent to include more disease types. The structure of the app would support any type of disease and would simply require the introductory questions to be written. This is the future of the app.
Author
Clinical Research Coordinator, Duke University
2424 Erwin Road
Durham, NC 27705
(919) 668-1998
Co-authors
Arif Kamal, MD, MBA, MHS
Fred Friedman, BA
Jonathan Nicolla, MBA
Nicholas Wysham, MD