National Seminar
POLST, A Community Grassroots Initiative
Topic: Quality Advance Care Planning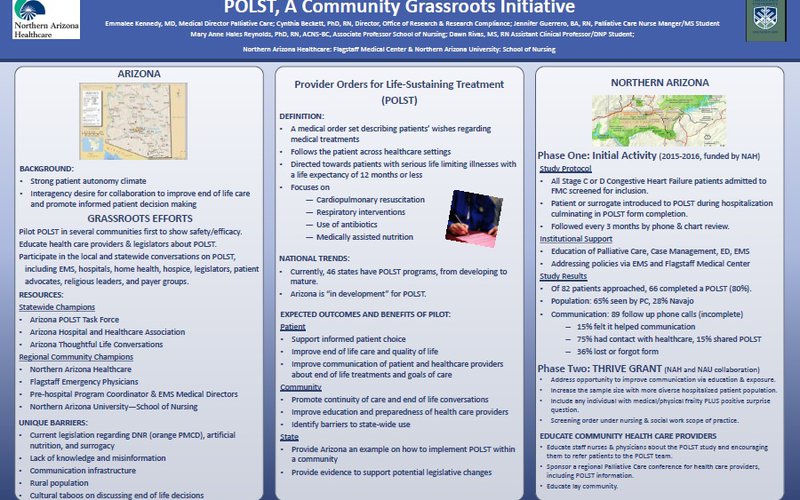 Provider Orders for Life-Sustaining Treatment (POLST) is a process that translates a patient's goals of care at the end of life into medical orders that follow the patient across healthcare settings. This signed document by the patient (or surrogate) and healthcare provider addresses the wishes of the patient with serious life-limiting illness.  POLST support historically has been garnered through three pathways: grassroots efforts, regulatory changes, and legislation.
Arizona has unique barriers to POLST implementation given current legislation regarding prehospital DNR.  While Arizona has been cognizant and active in all three areas, the state POLST task force has chosen to focus the majority of its efforts through the grassroots pathway, starting with implementing pilot programs throughout the state, documenting safety and efficacy of the program.   The POLST Task Force and Thoughtful Life Conversations provide important community support from the state level. Both organizations are supported by the Arizona Hospital and Healthcare Association and work as liaisons with the national POLST organization, healthcare systems, payer groups, community action groups, EMS, and legislators.
The first successful pilot program was started in Flagstaff, Arizona at Flagstaff Medical Center (FMC). FMC is part of Northern Arizona Healthcare (NAH) a healthcare organization that covers over 50,000 square miles in Northern Arizona and provides comprehensive services to a largely rural and diverse population. The initial program was started under the guidance and support of the Palliative Care Department at FMC. Congestive heart failure patients with Stage D or C with severe comorbidities were offered participation in a POLST conversation related to goals of care and culminating in POLST form completion.  A palliative care nurse assisted in communicating the form to the patient's health care team.  Patients were followed for one year with intermittent follow up assessments for form changes, contact with the health care system (including prehospital), and patient/family perception of the usefulness of the form.  The majority of patients approached accepted participation, although in follow up, many difficulties with communication of the POLST to other providers was noted.
This pilot study was then expanded by collaborating with Northern Arizona University School of Nursing (NAU).  NAU is a public university also located in Flagstaff. NAH and NAU applied for and received grant money through a program sponsored by a Translational Health Research Initiative (THRIVE). THRIVE is a formal partnership between NAU and NAH created to support innovative population health research to improve health outcomes for all of the communities across Northern Arizona. With the grant, the research efforts are currently expanding to include a larger and more diverse hospitalized patient population. In addition to introducing more patients and their families to the POLST conversation, the grant is also supporting POLST education and awareness programs directed to community health care providers. Northern Arizona is seeing community wide benefits of multiple groups working together to advocate for patient choice in care during a serious illness.
Author
Associate Professor
Northern Arizona Healthcare and Northern Arizona University
1200 N. Beaver Street
Flagstaff, AZ 86001
(928) 523-8209
Co-authors
Cindy Beckett, PhD, RNC-OB, LCCE
Dawn Rivas, RN, MS
Emmalee Kennedy, MD
Jennifer Guerrero, RN, BSN
Mary Anne Reynolds, PhD, RN, ACNS-BC