National Seminar
Pharmacy Services in an Outpatient Palliative Care Clinic
Topic: Staffing Models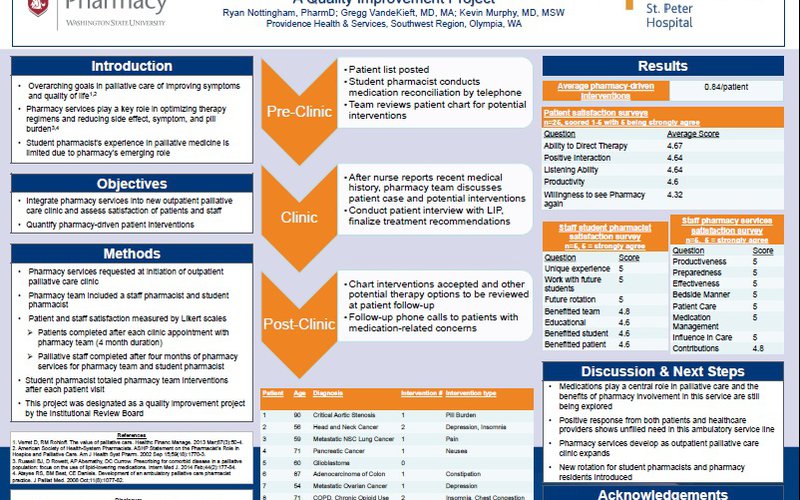 Purpose: Palliative care patients require significant pharmacologic intervention. Pharmacy services within palliative care is a developing field that may contain insight into optimal medication management. Patient quality of life is a central focus and can be influenced by symptoms, side effects, and pill burden. This IRB-designated quality improvement project was designed to measure patient, family, and staff satisfaction with pharmacy services provided in an outpatient palliative care clinic. In addition, pharmacy-driven interventions were evaluated and palliative care staff satisfaction with student involvement was assessed.
Methods: Pharmacy services were integrated in a new outpatient palliative care clinic in which a pharmacist and student pharmacist saw patients together with other members of the interdisciplinary team. Three Likert scale surveys were drafted to assess patient, family, and palliative care staff satisfaction with pharmacy services. A patient and family survey assessed pharmacy services on: positive interaction with patient/family, productivity, listening ability, ability to direct therapy, and patient's willingness to see pharmacy again. The first palliative care staff survey assessed pharmacy services on: productiveness, contributions, preparedness, effectiveness, bedside manner, improvement in patient care, improvement in medication management, and influence in patient care. The second staff survey examined the student pharmacist's role with regards to: benefit to the patient, team, and student, experience uniqueness, educational experience, willingness to work with future students, and staff support for a future palliative care rotation. Pharmacy interventions were tallied after each patient visit.
Results: In the 3-month survey period, twenty-five patients (92.6% response rate) completed the patient survey.  Scores ranged from 4.32-4.67/5, with 5 being strongly agree. Five staff members (100% response rate) completed the staff surveys. The pharmacy services scores ranged from 4.8-5/5. The student involvement scores ranged from 4.6-5/5. Pharmacy interventions averaged to 0.84 interventions per patient surveyed.
Conclusion: The response to pharmacy services within the outpatient palliative care setting was markedly positive, from both the patient and healthcare worker standpoint. Healthcare professionals and patients recognize the profound influence pharmacy services can have on medication management in this specialty. There is a fine balance in palliative care to provide superior symptom relief with fewer medications. This goal may be more easily attainable with pharmacy services involvement. Palliative care offers a unique learning experience to student pharmacists that would highly benefit them and their future patients. This quality improvement project demonstrates how pharmacy services can be a favorable addition to an outpatient palliative care clinic. This project also demonstrates the valuable learning experience student pharmacists can obtain by having a rotation in a palliative care clinic.
Author
Providence St. Peter Hospital
413 Lilly Rd NE
Olympia, WA 98506
(360) 486-6705
Co-authors
Gregg VandeKieft, MD, MA
Kevin Murphy, MD, MSW