National Seminar
Palliative Care Wherever the Patient Is....Everywhere!
Topic: Continuity of Care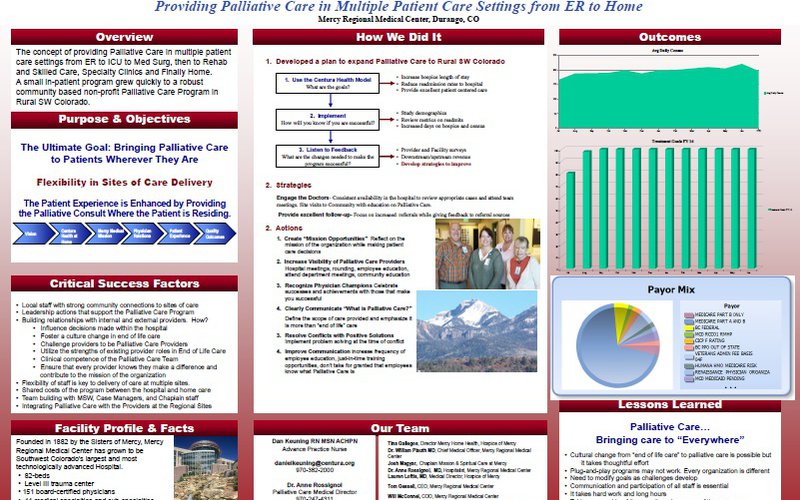 Providing Palliative Care in multiple patient care settings from ER to ICU to Med Surg, then to SNF and Rehab, Specialty clinics and ultimately home.  Reducing acute care readmission rates to less than 2% by following patients to multiple care settings with palliative care NP and MD services.  Caring for patients in a 85 bed rural hospital with a dedicated team of MD/NPs, MSW, Chaplains, and Case Management focused on the patient and family needs. Transitioning appropriate patients to hospice and increasing hospice length of stay from 18 days to 45 days in 1 year.  Collaborating with specialists by providing palliative care consults in their offices has increased collaboration with care for the most difficult cases.  Changing the culture of end of life care in Southwest Colorado has been the result of imbedding palliative care in multiple care settings.

Stats: 85 bed rural hospital.  Home Palliative Care provided by 5 NPs. Corporate support by Centura Health to provide education and resources to the hospital and home care. Quality Audits demonstrated greater than 90% compliance in areas such as advance directives, pain/dyspnea management, bowels, and goals of care discussion. Increased volume of home pallaitve care visits from 30 per month in 2012 to 250 per month in 2016.  Increased staff to include a full time Palliative Care Medical Director in 2016.  Four full time NPs providing home palliative care in 3 counties in SW Colorado.  Utilizing staff from home health and hospice to transition patients from home care to hospice care seamlessly for patients and families.
Author
Palliative Care Coordinator
Mercy Regional Medical Center
1010 Three Springs Blvd
Durango, CO 81301
(970) 382-2000
Co-authors
Anne Rossignol, MD
Daniel B. Keuning, RN MSN FNP-C ACHPN