National Seminar
A Palliative Care Summary EHR Page
Topic: Leveraging Technology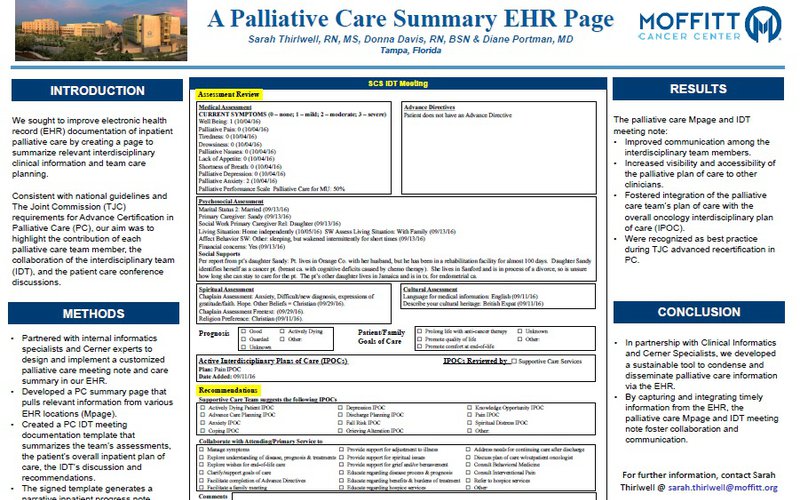 Introduction: We sought to improve electronic health record (EHR) documentation of inpatient palliative care by creating a page to summarize relevant interdisciplinary clinical information and team care planning.   Consistent with national guidelines and The Joint Commission requirements for Advance Certification in Palliative Care, our aim was to highlight the contribution of each palliative care team member, the collaboration of the interdisciplinary team (IDT), and the patient care conference discussions.
Methods: We partnered with internal informatics specialists and Cerner experts to design and implement a customized palliative care meeting note and care summary in our EHR.  We used existing features within Cerner to populate important information into a summary page from various EHR locations (Mpage).  The palliative care-specific Mpage contains four folders including the patient's problems list, code status, clinical notes, and the new palliative care IDT meeting note.  This note documents the patient care conference and summarizes the IDT members' most recent palliative care assessments, the patient's overall inpatient plan of care, the IDT's discussion and recommendations.
Results: The palliative care Mpage and IDT meeting note have improved communication among the interdisciplinary team members and have increased visibility and accessibility of the palliative plan of care to other clinicians.  These EHR documents support compliance with the required elements for quality palliative care certification.
Conclusion: We developed a sustainable tool to condense and disseminate palliative care information via the EHR.  By capturing and integrating timely information from the EHR, the palliative care Mpage and IDT meeting note foster collaboration and communication.
Author
Supportive Care Medicine Director
Moffitt Cancer Center
12902 Magnolia Drive
Tampa, FL 33612
(813) 745-4673
Co-authors
Diane Portman, MD, FAAHPM
Donna Davis, RN, BSN
Sarah Thirlwell, RN, MS, CHPN, AOCNS