National Seminar
Palliative Care at South County Hospital: System Wide
Topic: Health System Strategies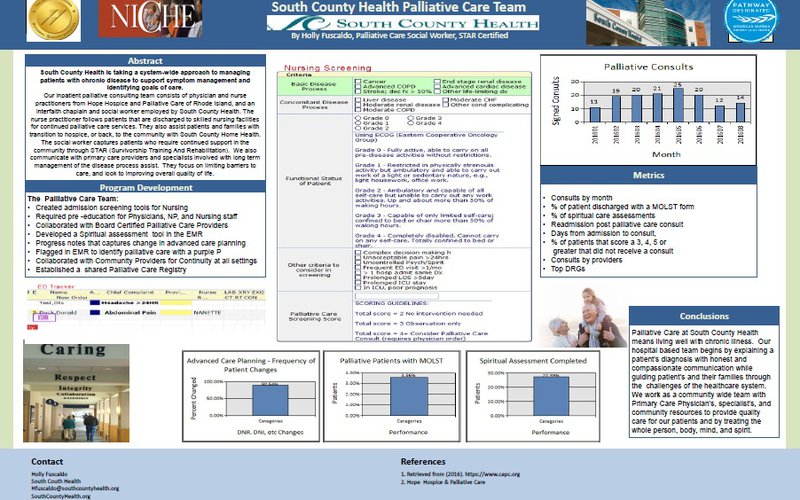 South County Health is taking a system wide approach to managing patients with chronic disease to support symptom management and identifying goals of care.  Our inpatient palliative care consulting team consists of physician and nurse practitioner from Hope Hospice and Palliative Care of Rhode Island and an interfaith chaplain and social worker employed by South County Health.  The nurse practitioner follows patients that are discharged to skilled nursing facilities for continued palliative care services, assists patients and families with transition to the community, including transition to South County Home Health Homecare.  The social worker is capturing patients through STAR (Survivorship training and rehabilitation) who require continue support and proactive rehabilitation with cancer patients to improve quality of life.  We communicate with primary care providers and specialists involved with long term management of the disease process to enhance overall quality of life and improve transitions of care and communication.

At South County Hospital, palliative care facilitates communication between patients and caregivers, while improving the coordination of care.  We advocate for patients goals of care and work with their healthcare team to meet their specific goals.  Our focus is to have our patients maintain control over their care and not have their care control them.  As a patient's condition and treatment options change and evolve, we assist in providing the right kind of care at the right time.

The team has developed:
Admission screening tool for Nursing.
Spiritual Assessment tool.
Progress notes that captures change in advanced care planning.
Flag in EMR that capture patients that are Palliative Care with (purple P.)
Palliative Care Registry.
Metrics
Consults by month.
% of patient discharged with a MOLST form.
%of spiritual care assessments.
Readmission post palliative care consult.
Days from admission to consult.
% of patients that score 3, 4, 5 or greater that did not receive consult.
Consults by providers.
Top DRG's.
Author
Case Manager
South County Hospital
100 Kenyon Ave.
Wakefield, RI 02879
(401) 788-1505
Co-authors
Holly Fuscaldo, BSW
Lynne Driscoll, RN