National Seminar
Palliating the Palate: Making Oral Care a Vital Sign
Topic: Quality Improvement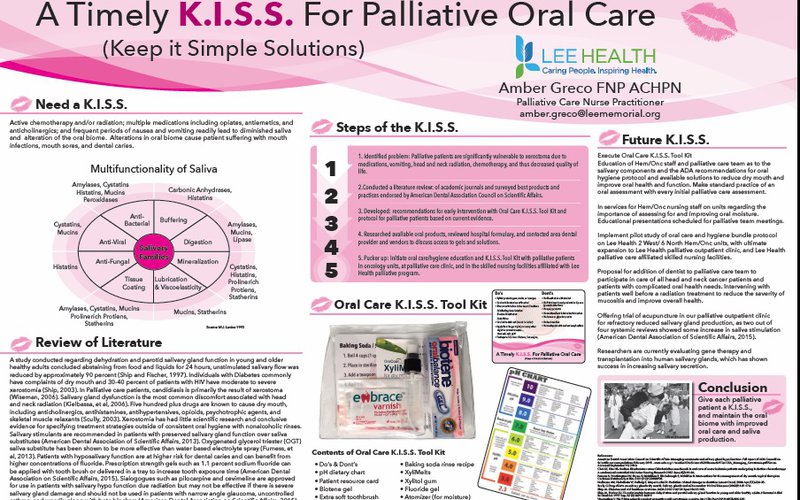 Oral pharyngeal candidiasis is a leading cause of death in patients with advanced cancer. Risks to oral care in patients with advanced disease are great, and  include but are not limited to poor oral intake, debility, local radiation, medications, and chemotherapy. So why do most providers spend such little time doing a  thorough oral examination and diagnosis? The standard care still remains a quick peek in the mouth and most patients receive the same initial cocktail , the "magic mouthwash" . Wiseman a palliative care dentist observes oncologists treat patients with multidrug concoctions while evidence supports remedying the specific symptoms (2006). Quelling the storm and restoring the oral biome supports the design of patient comfort. Candida should be cultured for sensitivity,  evidenced by  52 % of terminal patients in a Denmark study whom were colonized by a yeast with reduced susceptibility to Fluconazole (Astavad, Johansen, Hoiby, et al, 2015). Patients with periodontal inflammation have  shown recovery  when treated with local culture supernatant Lacidophilus Strain (Haukiloja, 2010).Probiotic engineering and local application show promise to aid in restoring oral biome in future. Mouthwash solutions  can be beneficial to restoring the calm, and there are multiple simple options which should be chosen according to the palliative patient's specific tastes and needs. Water and saline solution are easily accessible but saline can alter taste. Of cardinal concern is  a dry mouth, there is a need to cleanse but preserve moisture. A  simple solution of 1:1 cider to soda water is palatable and effervescence debrides well. (Finlay, 2005). It is necessary two moisturize mouth minimally every two hours, especially at the end of life a large cotton soaked swabs are a good choice, often if patient semiconscious ice water can be unsettling. There is even suggestion of liquor to swab mouth which can calm patient who has been used to drinking alcohol. Oral pain is unacceptable, after dry mouth is addressed, use of numbing agents or oral Morphine 0.2% solution should be considered. Dentists can be  invaluable members to a palliative care team, but the reality for  most patients' with advanced disease is poor dental care and reduced access to a dentist. The oral health of our palliative patient must be considered a vital sign and treated with the same urgency as their other organ systems. A is for  airway in  the ABCs of resuscitation, so let us remember to attend the oral pharyngeal system.
References
Astavad K, Johansen HK, Hoiby N, Steptoe P, and Ishoy, T. JPalliative Med.2015:18(11).
Davis A Finlay I. Oral Care in Advanced Disease, Oxford University Press, London, 2005.
Haukioja. Probiotics in Oral Health. EurJDent. 2010:July 4(3)
Wiseman MA. Palliative care dentistry.JCanDentAssoc.2006:72(5)
Author
Lee Memorial Health System
8931 Colonial Drive
Ft Myers, FL
(239) 343-2000
Register Now
Register for the 2018 CAPC National Seminar and Pre-Conference Workshops by September 24 for Early Bird pricing.
Learn More and Register