National Seminar
Outpatient Palliative Cardiology Embedded Within a Heart Failure Clinic: A New Model of Care
Topic: Specific Patient Populations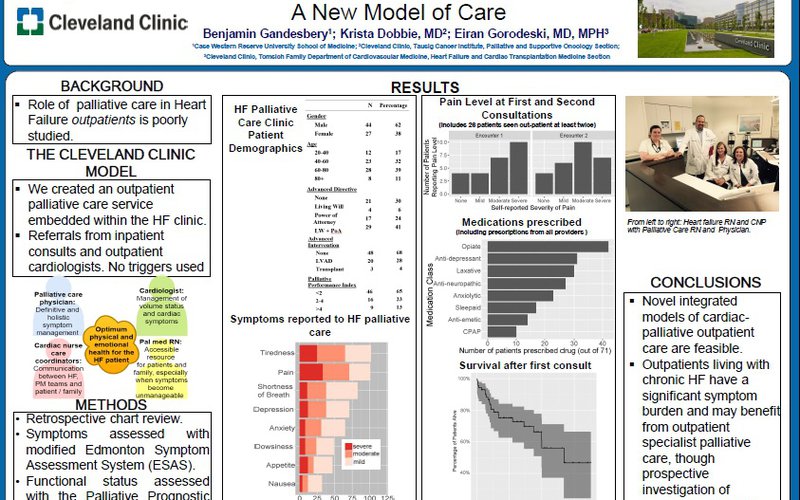 Introduction/Background: The role of specialist palliative care in the management of heart failure (HF) has been established in the contexts of in-patient HF care and management of patients with left ventricular assist devices (LVAD). However, the role of palliative care consultation in the outpatient treatment of HF patients is less well studied. In August 2015, we created an outpatient palliative care service embedded within the HF clinic at Cleveland Clinic Main Campus.  Patients were referred by cardiologists based only on perceived palliative need; no triggers were used for patient referral.
Objectives: Our objectives were to characterize patients cared for by our novel outpatient palliative cardiology service, including their degree of HF, overall symptoms, comorbidities, palliative treatments, advanced directives status, and mortality.
Methods: We conducted a retrospective chart review of all patients evaluated by this outpatient service. Symptom burden was assessed with a modified Edmonton Symptom Assessment System (ESAS). Functional status was assessed with the Palliative Prognostic Index (PPI). Left ventricular ejection fraction (EF), HF stage, and NYHA class were recorded.  Survival rate was calculated with the Kaplan-Meier method. 
Results: Seventy-one patients were seen in 160 out-patient encounters. Twenty had an LVAD, three were heart transplant recipients, and 48 had symptomatic HF without advanced interventions.  Most patients had NYHA class III symptoms (68%) and were ACC/AHA stage C (61%), indicating symptomatic but not end-stage disease. Sixty-five percent had a PPI less than 2, 23% had a PPI between 2 and 4, and 13% had a PPI greater than 4.  Twenty-four percent of patients had coincident cancer diagnoses.  Across all visits, the most commonly reported ESAS symptoms were tiredness (74%), pain (73%), dyspnea (60%), depression (51%), and anxiety (47%). Across all patients, the most common palliative medications prescribed were opiates (59%), antidepressants (44%), laxatives (42%), antineuropathics (38%), and anxiolytics (32%). Of patients reporting pain, 52% had muscular or skeletal pain, 45% had neuropathic pain, and 17% had medical device pain. Seventy percent had Advanced Directives in place. Mean survival was 576 days (SE 50 days).
Conclusions: We report our experience with a palliative cardiology service embedded within a HF clinic. Patients presented throughout the HF disease course with an array of quality-of-life limiting symptoms, and were medically managed with several interventions familiar to palliative medicine specialists.  
Implications: Novel integrated models of cardiac-palliative outpatient care are feasible. Outpatients living with chronic HF have a significant symptom burden and may benefit from outpatient specialist palliative care, though prospective investigation of outcomes is needed.
Author
Staff Physician
Cleveland Clinic
9500 Euclid Avenue
Cleveland, OH 44106
(216) 636-9770
Co-authors
Benjamin Gandesbery
Eiran Z. Gordeski
Krista Dobbie