National Seminar
Outcomes of a Population Health Community-Based Palliative Care Program
Topic: Screening for Palliative Care Patients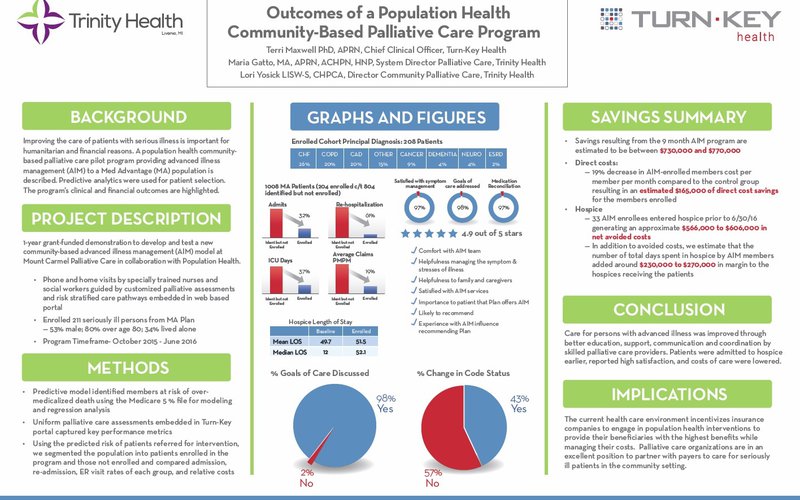 I. Original Research Background:
Improving the care of patients with serious illness is important for humanitarian and financial reasons. We present a population health community-based palliative care pilot program providing advanced illness management (AIM) to a Med Advantage (MA) population. Predictive analytics used for patient selection and the clinical and financial outcomes are highlighted. 

II. Research Objectives:
Identify patients at risk for an over-medicalized death through predictive modeling
Evaluate the clinical and financial outcomes of a population health community-based AIM program 
III. Methods:
We built a predictive model to identify members at risk of over-medicalized death using the Medicare 5 % file for modeling and regression analysis. Clinical measures were selected based upon literature review; assessments captured key performance metrics. 

Using the predicted risk of patients referred for intervention, we segmented the population into patients enrolled in the program and those not enrolled and compared admission, re-admission, ER visit rates of each group, and relative costs. 

IV. Results:
212 patients enrolled in the program; 88% over age 80. 98% percent had goals of care addressed with 38% changing code status.  Over 96% of patients reported satisfaction with symptoms and patient and family satisfaction with the program was very high.  Preliminary cost savings demonstrated a net savings of $24,000 per month/150 patients. Hospice admission rate was 16.5%; median length of stay of 52 days. 

V. Conclusion:
Care at the end of life was improved through better education, support, communication and coordination by skilled palliative care providers. Patients were admitted to hospice earlier, reported high satisfaction, and costs of care were lowered.

VI. Implications for research, policy or practice:
The current health care environment incentivizes insurance companies to engage in population health interventions to provide their beneficiaries with the highest benefits while managing their costs.  Palliative care organizations are in an excellent position to partner with payers to care for seriously ill patients in the community setting.

Author
Trinity Health System Director Palliative Care
Trinity Health
20555 Victor Parkway
Livonia, MI 48152
(734) 343-1000
Co-authors
Lori Yosick, LISW-S, CHPCA
Terri Maxwell, PhD, APRN