National Seminar
New Model: Integrating Palliative Across Care Settings
Topic: Continuity of Care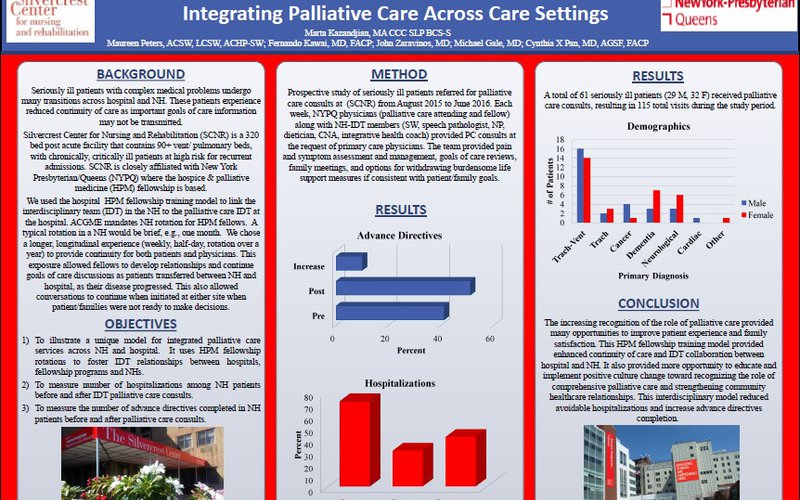 Seriously ill patients with complex medical problems undergo many transitions across hospital and nursing homes (NH). During these transitions, patients experience reduced continuity of care and important goals of care information may not be transmitted. We used a hospital based Hospice & Palliative Medicine (HPM) fellowship training model to link the interdisciplinary team (IDT) in the NH to the palliative care IDT at the hospital. ACGME mandates NH rotation for HPM palliative care fellows.  A typical rotation in a NH would be brief, e.g., one month.  We chose a longer experience (weekly, half-day, rotation over a year) to provide continuity for both patients and physicians.  
Objectives:
1) To illustrate a model for integrated palliative care services across NH and hospital.
2) To demonstrate a unique model in fellowship rotations to foster IDT relationships between hospitals, fellowship programs and NHs.
3) To measure number of hospitalizations among NH patients before and after IDT palliative care consults.
4) To measure the number of advance directives completed in NH patients before and after palliative care consults.
Methods: Prospective study of seriously ill patients who were referred for palliative care consults, at Silvercrest Center for Nursing and Rehabilitation (SCNR), a 320 bed post-acute care facility that contains 90 plus vent/pulmonary beds, with many chronically, critically ill patients at high risk for recurrent admissions. SCNR is closely affiliated with New York Presbyterian Queens (NYPQ), where the fellowship is based. Each week, physicians (palliative care attending and fellow) along with NH IDT members (social worker, speech pathologist, nurse practitioner, dietician, nursing assistant and integrative health coach) provided palliative care consults at the request of primary care physicians. Consultants provided pain and symptom assessment and management, goals of care reviews, family meetings, and options for withdrawing life support measures if consistent with patient/family goals. The year-long exposure allowed fellows to continue goals of care discussions as patients were transferred between NH and hospital, as their disease progressed. This allowed conversations to continue when initiated at either site when patient/families were not ready to make decisions.
Results: Between Aug 2015 and June 2016, the consult team saw 61 patients, and provided total of 115 visits. There was a reduction of total # of hospitalizations before and after palliative care consultation (Pre= 43, and post = 18). There was an increase in total # Advance Directives (DNR, DNH, DNI) after Consults (pre= 74; post = 92).There were 5 cases where families elected to withdraw life sustaining treatments (vent support and/or tube feeding). There was culture change with both acute and long term care team members, with increased understanding of palliative care principles, and NH staff appreciating the value of supporting the patient's and family's goals of care.
Conclusion: The increasing recognition of the role of palliative care provided many opportunities to improve patient experience and family satisfaction. This HPM fellowship training model provided enhanced continuity of care and IDT collaboration between hospital and NH.This model appeared to reduce avoidable hospitalizations and increase advance directives completion.
Author
Senior Director, Speech Pathology, Clinical Initiatives and Patient Experience; Clinical Director Speech Pathology
Silvercrest Center for Nursing and Rehabilitation; New York Presbyterian/ Queens
144-45 87th Avenue
Briarwood, NY 11435
(718) 670-2736
Co-authors
Cynthia X. Pan, MD, FACP
Fernando Kawaii, MD, FACP
John Zavorinos, MD
Marta Kazandjian, MA, CCC, SLP, BCS-S
Maureen Peters, ACSW, LCSW, ACHP-SW
Michael Gale, MD