National Seminar
A Medicare Advantage Clinic CHF/Palliative Care Program
Topic: Palliative Care Models by Setting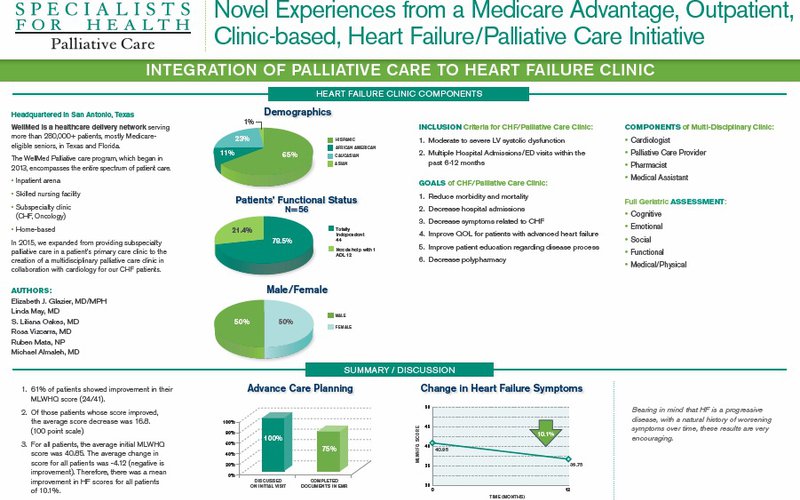 Headquartered in San Antonio, Texas, WellMed is a healthcare delivery network serving more than 227,000 patients, mostly Medicare-eligible seniors, in Texas and Florida. The WellMed Palliative Care Program encompasses the entire spectrum of patient care; engaging patients in the inpatient arena, skilled nursing facility, subspecialty clinic and in the comfort of their own home. As a non-academic, community practice, building a multi-disciplinary, subspecialty clinic involving palliative care with private cardiologists was a unique endeavor.
In November 2015, we expanded from providing subspecialty palliative care in a patient's primary care clinic to the creation of a multidisciplinary palliative care clinic in collaboration with cardiology for our CHFpatients. Each patient is seen by a cardiologist and a palliative care-trained physician during each clinic visit. Most of the patients are NYHA Class III and IV. All patients receive a full geriatric assessment to include cognitive, emotional, social, functional, and medical assessments. We will share our experience over the last year in ensuring that advance care planning is introduced and documented in the EMR for this very high risk subset of patients. We were able to improve completion of advance care documentation for these patients from no advance care planning to 85%. We will also share our successes in improving symptom management, primarily dyspnea, fatigue, depression and delaying functional decline.
Author
WellMed Medical Management
8657 Fredericksburg Rd
San Antonio, TX 78240
(888) 781-9355
Co-authors
Elizabeth J. Glazier
Lilliana Oakes
Linda May
Michael Almaleh, MD
Rosa Vizcarra
Ruben Mata, NP
Register Now
Register for the 2018 CAPC National Seminar and Pre-Conference Workshops by September 24 for Early Bird pricing.
Learn More and Register