National Seminar
LifeCourse—Design to Implementation in a Health System
Topic: Staffing Models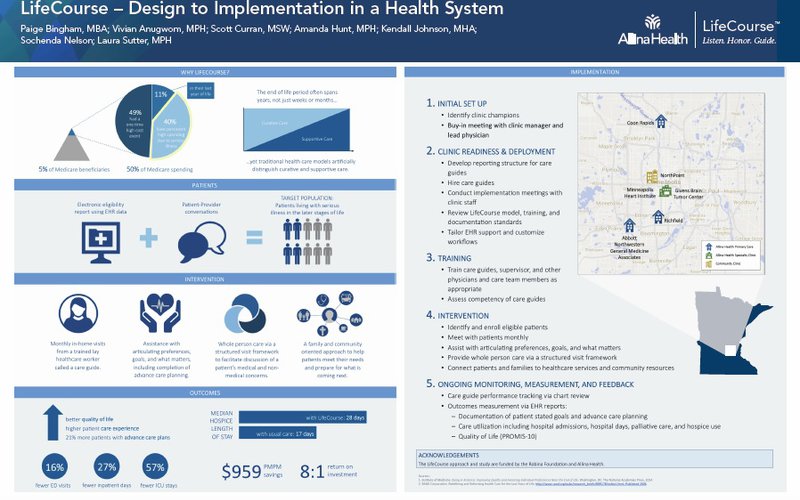 In the next decade and a half, communities in the US will care for the same number of individuals over the age of 65 as they have over the past combined nine decades. The need for innovative, upstream palliative care models that can be deployed wide scale and sustainably is critical. A large healthcare delivery system in the upper Midwest has developed an innovative model—LifeCourse—to support patients facing advanced serious illness and their key friends and families.
Investigators began designing the model by conducting meetings with 183 patients, caregivers, and care professionals to systematically gather perspectives on optimal care delivery for persons diagnosed with serious illness. Participant feedback was shaped into care components that illustrate how illness is lived, the care relationship is experienced, and care is delivered. These care components guided the creation of protocols for a trained lay healthcare worker called a care guide who meets with patients and caregivers in their home early in their illness experience. Care guides work to understand the patient's experience and goals for living well, and help enhance supportive relationships in the family, community, and care teams.
 LifeCourse is being evaluated through a research study that has enrolled 900 intervention and usual care patients and their key friends and family (total n=1,800). While data is still being collected on comparison patients, strong early results and supportive funding propelled leadership of the health system to implement LifeCourse across multiple clinics and collaborating community sites. This early deployment is part of an effort to close the widening gap between the production of positive research results and the systematic implementation of those interventions.
 To successfully implement LifeCourse within existing care teams, an implementation team met with clinic leaders and key clinic staff over several weeks to help prepare the clinics,hire the care guides, and champion LifeCourse. LifeCourse worked this team to adapt program materials to suit the needs of their population, and review care guide protocols to make sure the clinic team understood the care guide work and how they could add value. In addition to following a detailed implementation strategy, an evaluation plan was created to measure the effectiveness and provide feedback on the process and outcomes. This poster will describe how LifeCourse moved from designing a new approach to late life care to systematically deploying this approach across a health system, and will summarize the successes and challenges of integrating research into practice.
Author
Research Associate
Allina Health
2925 Chicago Avenue, MR 10039
Minneapolis, MN 55407
(612) 262-1595
Co-authors
Kendall Johnson, MHA
Laura Sutter, MPH
Paige Bingham, MBA
Scott Curran, MSW
Sochenda Nelson
Vivian Anugwom, CHES