National Seminar
Integration of a Palliative Care Goals of Care Conversation in the Acute Care of the Elderly Unit
Topic: Quality Advance Care Planning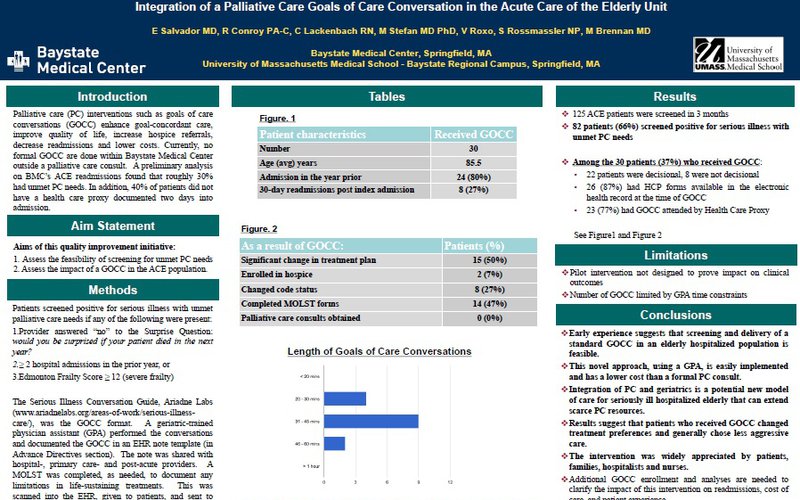 Background:  Palliative care (PC) interventions such as goals of care conversations (GOCC) enhance goal-concordant care, improve quality of life, decrease readmissions, and lower cost of care.  A dedicated Acute Care for Elders (ACE) unit was launched on a general medical floor at Baystate Medical Center (BMC), a tertiary care center in Western MA.  Currently, no formal GOCC are done within BMC by the primary team.  A preliminary analysis on ACE readmissions found that roughly 30% of patients had unmet palliative care needs, and 40% of patients did not have a health care proxy (HCP) documented two days into admission.  The aim of this quality improvement initiative was to assess the feasibility of screening for unmet PC needs and the impact of a GOCC in the ACE population.
Intervention:  A multidisciplinary team including nursing, geriatrics, hospitalists, PC, and quality designed the intervention.  Patients screened positive for the need of a GOCC if any of the following were present: 1) Provider answered yes to the Surprise Question (SQ), 2) >= 2 admissions in the prior year, 3) Edmonton Frailty Score  >=12.   The Serious Illness Conversation Guide (SICG) was chosen as the standard GOCC format.  A geriatric-trained physician assistant (GPA) performed and documented GOCC and communicated with relevant providers.  MOLST forms were completed, as needed, and documented in the EHR, given to patients, and sent to providers.  
Results:  Among the 92 patients evaluated in two months, 49 (53 %) screened positive, and 20 (41%) GOCC were completed (number limited by GPA time constraints).  All GOCC were documented in the EHR and communicated to the hospital-, primary care- and post-acute providers.  18/20 patients had a HCP in the chart before GOCC, and two were encouraged to bring their completed HCP to hospital.  Before GOCC 5/20 patients had a MOLST in place.  Ten patients had MOLST completed with DNR/DNI orders during the GOCC (five of which reflected a change from full code status).  One significantly changed care plans, going home on Hospice with a "Do Not Return to Hospital" order.  All remaining patients without MOLST were full code.  DNR/DNI orders were documented on a MOLST for all patients who expressed this preference during the GOCC.  Feedback from patients and families, nurses, and physicians was overwhelmingly positive. 
Conclusions:  Early experience suggests that this novel intervention of a GPA proactively performing GOCC in seriously ill elderly hospitalized patients is feasible.  It may facilitate completion of documentation of patient's care preferences for life sustaining treatments across health care settings.  The intervention is lower cost than a formal PC consult.  We plan to collect data to clarify the impact of this intervention on readmissions, health care costs, and patient experience.  This integration of PC and geriatrics is a potential new model of care for seriously ill hospitalized elderly that can extend scarce PC resources.
Author
Palliative Care Program Innovator
Baystate Medical Center
759 Chestnut Street
Springfield, MA 01107
(413) 794-3245
Co-authors
Erin J. Salvador, MD
Kasey Lackenbach , RN
Maura Brennan, MD, FAAHPM, HMDC
Mihaela Stefan, MD, PhD
Richard Conroy, PA-C
Sarah Rossmassler, NP, ACHPN