National Seminar
Improving QOL for Late Life Patients: LifeCourse Findings
Topic: Measuring Impact and Value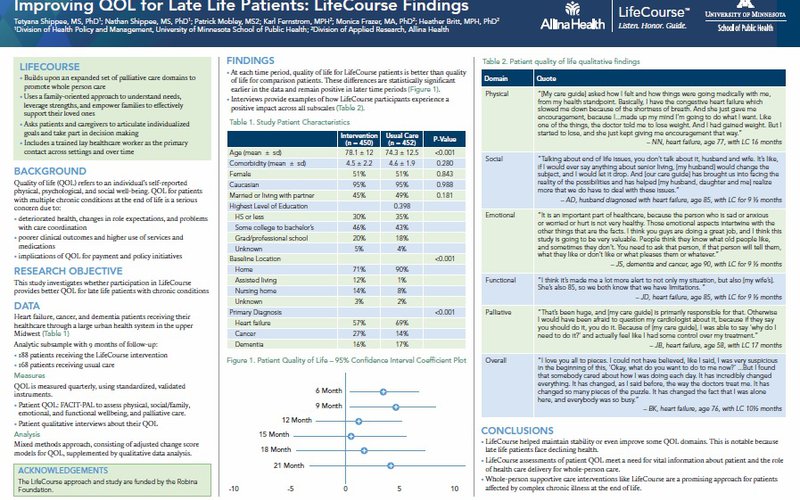 Quality of life (QOL) for patients with chronic conditions at the end of life is a concern among policymakers and consumers, and has implications for improved care delivery outcomes. QOL indicators enable understanding of healthcare delivery beyond system oriented outcomes, shedding light on the effect of holistic, supportive care for those living with complex chronic illness in late life. In this mixed methods evaluation, we examine the effectiveness of a new patient-centered approach to late life care—LifeCourse intervention. A key component is ongoing, across-setting assistance by layperson care guides, supported by a clinical team. We investigate whether participation in LifeCourse improves QOL for patients, compared to usual care controls. QOL is assessed through quarterly administration of the Functional Assessment of Chronic Illness Therapy-Palliative Care survey (n=190 intervention patients and 157 controls). Data is presented as change in QOL indicators between baseline and 6 months. Mixed-methods analysis includes longitudinal examination of scores and qualitative data analysis. Multivariate analyses reveal that LifeCourse intervention had a significant positive effect on QOL for intervention patients when compared to controls. Additional analyses show that most changes happen for social quality of life domains. Interview data reveal that participants actively seek out ways to maintain QOL and exhibit resilience in the face of decline. Overall, our findings show that LifeCourse has a positive impact on QOL when compared to usual care patients.  These trends indicate whole-person supportive care like LifeCourse is a promising approach for patients affected by complex chronic illness in late life.
Author
Research Associate
Allina Health
2925 Chicago Avenue, MR 10039
Minneapolis, MN 55407
(612) 262-1595
Co-authors
Heather Britt, MPH, PhD
Karl Fernstrom, MPH
Monica Frazer, MA, PhD
Nathan Shippee, MS, PhD
Patrick Mobley, MSAE
Tetyana Shippee, MS, PhD
Register Now
Register for the 2018 CAPC National Seminar and Pre-Conference Workshops by September 24 for Early Bird pricing.
Learn More and Register