National Seminar
Implementing Telehealth in a Home Palliative Care Service
Topic: Leveraging Technology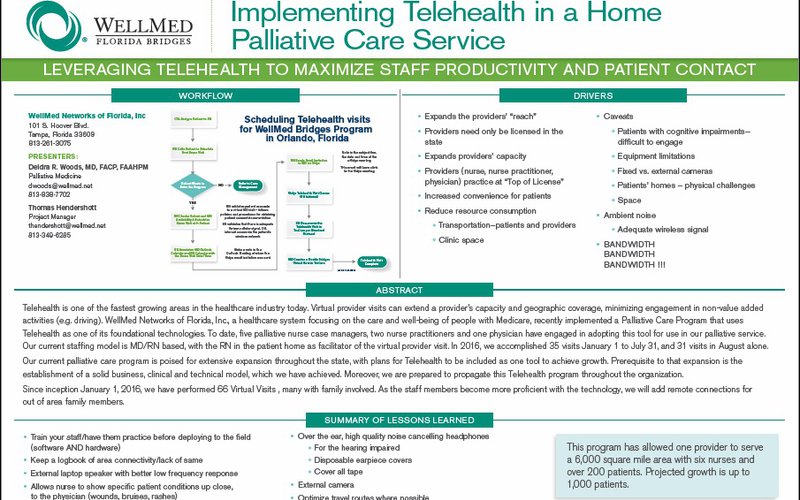 Telehealth is one of the fastest growing areas in the healthcare industry today.  Virtual provider visits can extend a provider's capacity and geographic coverage, minimizing engagement in non-value added activities (e.g. driving).   WellMed Network of Florida (a Medicare Advantage Plan) has recently implemented a Palliative Care Program that uses telehealth as one of its foundational technologies.  To date, five palliative nurse case managers, two advance practice nurses and one physician have engaged in adopting this tool for use in our palliative service.  This Poster Session will provide an in depth review of the implementation successes, challenges, and discoveries that we have encountered over the first six months of our program. We will outline the drivers and caveats of the technology, our staffing model, and our day-to-day processes and provide a description of our software/systems. 
We will share our discoveries, expected and unexpected.  In addition, lessons learned about users, both professional and lay users.  Our current palliative care program is poised for extensive expansion, with plans for telehealth to be included as one tool to achieve growth.  Prerequisite to that expansion is the establishment of a solid business, clinical and technical model, which we have achieved.  Moreover, we are prepared to propagate this Telehealth program throughout the organization.
Author
Palliative Medicine Physician
WellMed Network Florida
101 S. Hoover Blvd.
Tampa, FL 33609
(813) 261-3061
Co-authors
Deidra R. Woods, MD
Thomas Hendershott
Register Now
Register for the 2018 CAPC National Seminar and Pre-Conference Workshops by September 24 for Early Bird pricing.
Learn More and Register