National Seminar
Impact of an Inpatient Palliative Care Program
Topic: Measuring Impact and Value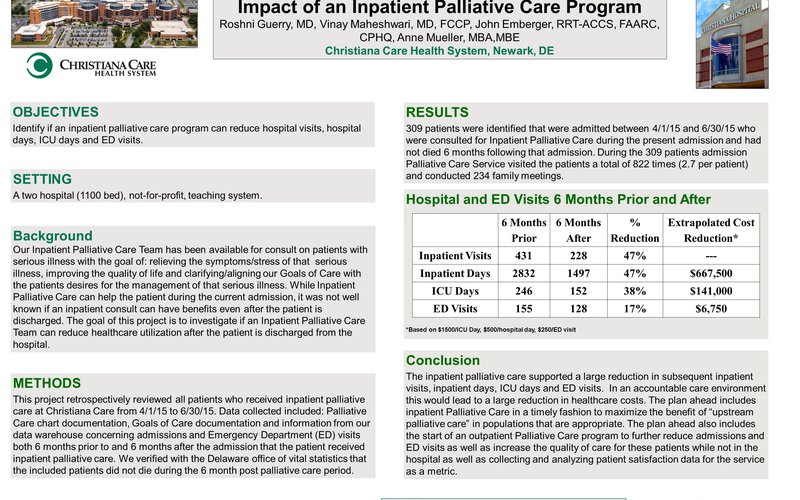 BACKGROUND:
Our Inpatient Palliative Care Team has been available for consult on patients with serious illness with the goal of: relieving the symptoms/stress of that serious illness, improving the quality of life and clarifying/aligning our Goals of Care with the patients desires for the management of that serious illness. While Inpatient Palliative Care can help the patient during the current admission, it was not well known if an inpatient consult can have benefits even after the patient is discharged. The goal of this project is to investigate if an Inpatient Palliative Care Team can reduce healthcare utilization after the patient is discharged from the hospital.

METHODS:
This project retrospectively reviewed all patients who received inpatient palliative care at Christiana Care from 4/1/15 to 6/30/15. Data collected included: Palliative Care chart documentation, Goals of Care documentation and information from our data warehouse concerning admissions and Emergency Department (ED) visits both 6 months prior to and 6 months after the admission that the patient received inpatient palliative care. We verified with the Delaware office of vital statistics that the included patients did not die during the 6 month post palliative care period.

RESULTS:
309 patients were identified that were admitted between 4/1/15 and 6/30/15 who were consulted for Inpatient Palliative Care during that admission and had not died 6 months following the admission. During the 309 patients admission Palliative Care Service visited the patients a total of 822 times (2.7 per patient) and conducted 234 family meetings.
 
Data below shows the hospital and ED visits for this population 6 months PRE and 6 months POST the inpatient admission with palliative care.

Data displayed as:         PRE     POST     %REDUCTION
Inpatient Admissions:     431        228               47%
Inpatient Days:              2832      1497              47%
ICU Days:                       246       152               38%
ED Visits:                       155        128               17%
 
CONCLUSION:
While an outpatient Palliative Care program is the optimal way to reduce acute healthcare resources, an inpatient Palliative Care program can reduce hospital, ICU and ED visits.
Author
Performance Improvement Program Manager
Christiana Care Health System
4755 Ogletown-Stanton Rd
Newark, DE 19713
(302) 733-1000
Co-authors
Anne Mueller
John Emberger
Roshni Guerry
Vinay Maheshwari