National Seminar
Immersive Palliative Care Education in a Virtual World
Topic: Education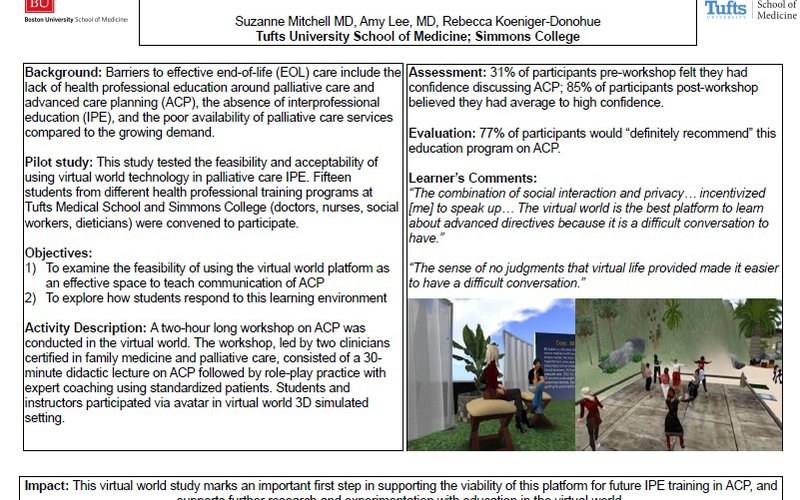 Significance: Barriers to effective end-of-life (EOL) care include the lack of health professional education around palliative care and advanced care planning (ACP), the absence of interprofessional education (IPE) in this field and the poor availability of palliative care services compared to the growing demand.
Methods: We conducted a pilot study to test the feasibility and acceptability of a new approach to IPE in palliative care using virtual world technology to convene students from different health professional training programs. Fifteen students from a Boston area medical school and partnering nursing and social work graduate program at a Boston area health professions college participated in a 2-hour workshop teaching communication around ACP using simulation scenarios and standardized patient actors in a virtual world environment.  Participants engaged in the program remotely and following the training completed post-workshop surveys to provide feedback on their experiences.
Results: Confidence discussing ACP with patients and families increased for all participants after the workshop as compared to before participation, and many felt the combination of social interaction and anonymity the virtual world offers allowed for a judgment-free environment to engage in a topic that has been historically difficult for health professionals to discuss.  77% of respondents said they would definitely recommend this educational program. All but one respondent found navigating the technology very easy or manageable.  Other participants appreciated the convenience of talking to people from other professions and ease of accessibility the virtual world affords.  The majority of participants believed the workshop helped to remind them to "remain open, reflective, honest and empathetic," and to "slow down and ask more questions."
Conclusion: The virtual world ACP workshop positively influenced participants familiarity, knowledge and comfort-level with ACP, supporting the use of virtual world technology as an engaging learning environment for health professionals to start dialogues around sensitive topics, and learn effective communication skills.  
One Sentence Summary: Our virtual world workshop proved feasible and effective in increasing students' familiarity and confidence discussing advance care planning.
Author
Assistant Professor, Family Medicine and Palliative Care
Boston Medical Center/Tufts University School of Medicine
4 Ives Street
Beverly, MA 01915
(617) 638-8000
Co-authors
Amy Lee, MD
Rebecca Koeniger-Donohue, DNP