National Seminar
How Standardized Data Collection Informs Palliative Care
Topic: Measuring Impact and Value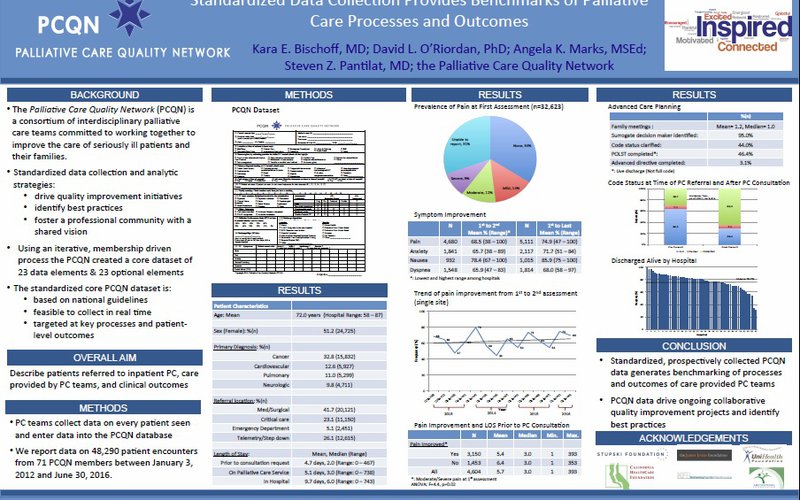 Introduction: The Palliative Care Quality Network (PCQN) is a large consortium of palliative care (PC) teams in the United States who are collecting standardized data about the practice of PC.
Objective: Describe patients referred to inpatient PC, care provided by PC teams, and clinical outcomes.
Methods: Seventy-one PCQN members entered data on 48,290 patient encounters between January 3, 2012 and June 30, 2016.
Results: Patients referred to PC were an average of 72 years old (median=74) and were significantly debilitated (mean palliative performance scale=35.2). The most common diagnosis leading to PC consult was cancer (32.8%). Common reasons for referral to PC were goals of care discussions (73.1%), followed by pain management (20.2%), and providing support for patient/family (20.0%). Patients were referred to PC an average of 4.7 days (median=2) after hospital admission and were followed by the PC team for an average of 5.0 days (median=3.0). Disciplines involved in PC consultations included physician (50.5%), social worker (36.5%), registered nurse (33.4%), and chaplain (31.8%). Of patients with moderate to severe symptoms, 68.5% reported improved pain from the 1 st to 2 nd PC assessment, 78.4% reported improved nausea, 65.9% reported improved dyspnea, and 65.7% reported improved anxiety. A surrogate decision maker was identified for 95.2% of patients seen by PC. On average, patients had 1.2 family meetings with the PC team (median=1). Forty-four percent of patients had their code status clarified, 12.2% had a POLST form completed, and 3.1% completed an advanced directive. Three quarters of patients were discharged alive, with home being the most common discharge location (48.2%). Hospice services were arranged for 38.0% of patients.
Conclusion: This multicenter dataset allows us to understand the services provided by inpatient PC teams, and the impact of that work. These data can be used to define best practices and drive quality improvement in PC.
Author
Palliative Care Program, University of California, San Francisco
533 Parnassus Avenue
San Francisco, CA 94143
(415) 476-5851
Co-authors
Angela Marks, MSEd
David L. O'Riordan, PhD
Kara Bischoff, MD
Steve Z. Pantilat, MD