National Seminar
Home Based Palliative Care Reduces Hospital Readmissions
Topic: Measuring Impact and Value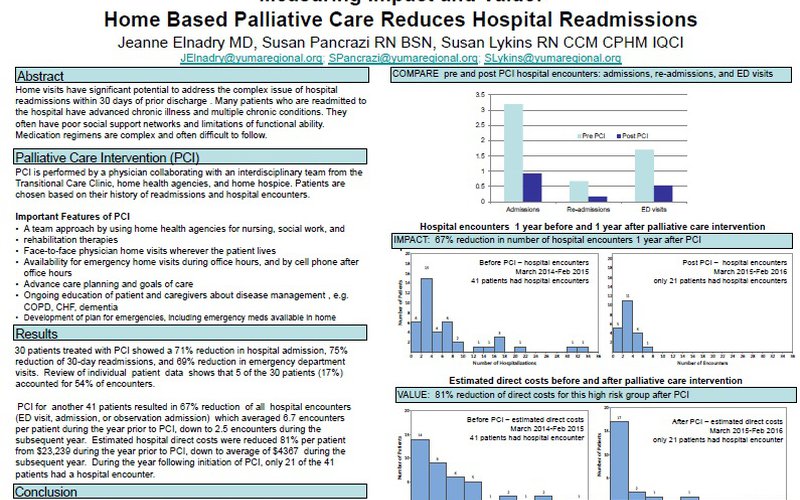 Home visits have significant potential to address the complex issue of hospital readmissions within 30 days of prior discharge. Many patients who are readmitted to the hospital have advanced chronic illness and multiple chronic conditions. They often have poor social support networks and limitations of functional ability. Medication regimens are complex and often difficult to follow. Our palliative care intervention includes:
Home visits by a palliative care physician
Availability by cell phone
Availability for emergency home visits during office hours
Advance care planning/goals of care conversation
Disease management education
Development of plan for managing anticipated emergencies in the home
Selected meds available in the home with instructions for how to use for specific emergencies
 Interdisciplinary team collaboration with Transitional Care Clinic, home health agencies,  and home hospice care 
This intervention is performed by a physician, with support of the transitional care clinic (which focuses on providing clinic-based care for the 30 days post hospital discharge). Intervention includes face-to-face encounters wherever the patient lives, a team approach by using home health agencies for nursing, social work, and rehabilitation therapies, or home hospice, telephone availability after office hours, availability home visits for emergencies that occurred during office hours.

Results: Data for initial 41 patients during the year prior to palliative care intervention compared to the year following palliative care intervention showed 67% reduction of hospital encounters (hospital admission, observation admission, or emergency department admission), from an average of 6.7 encounters per patient during the year prior to palliative care intervention, to 2.5 encounters during the subsequent year. Estimated direct cost per patient was $23,239 during the year prior to intervention, and $8527 during the subsequent year. During the year following initiation of the palliative care intervention, only 21 of the 41 patients had a hospital encounter.

Additional data for 30 patients shows a 71% reduction in hospital admissions, 75% reduction in readmissions within 30 days, and 69% reduction in Emergency Department visits. Review of individual patient data shows that only 5 patients accounted for 89 encounters, the other 25 patients accounted for 77 encounters 0 17% of patients accounted for 54% of encounters.

Conclusions:  A home- based palliative care intervention providing physician home visits significantly reduces hospital encounters and readmissions along with direct costs for patients with advanced illness. 
Author
Director of Palliative Care
Yuma Regional Medical Center
2400 S. Avenue A
Yuma, AZ 85364
(928) 336-2165
Co-authors
Jeanne Elnadry, MD
Susan Lykins, RN, CCM, CPHM, IQCI
Susan Pancrazi, RN, BSN