National Seminar
Evaluating Impact of a Statewide Medicaid Palliative Care Intervention
Topic: Measuring Impact and Value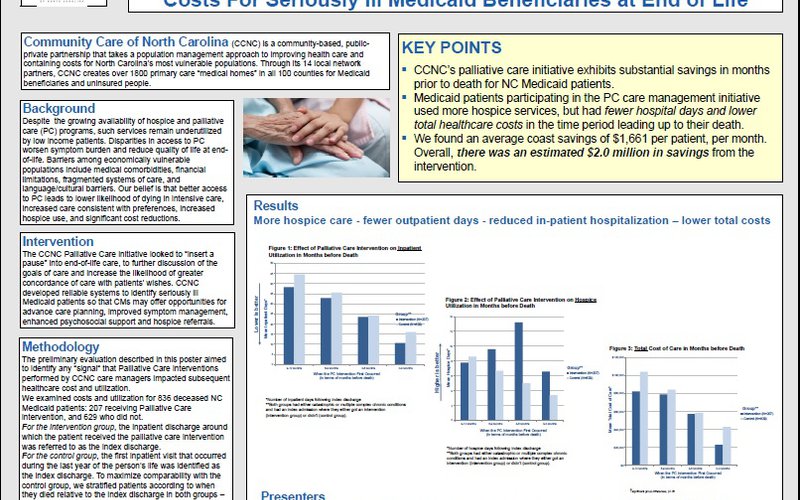 Community Care of North Carolina (CCNC) is a community-based, public-private partnership that takes a population management approach to improving health care and containing costs for North Carolina's most vulnerable populations. Through its 14 local network partners, CCNC creates over 1400 primary care "medical homes"   in all 100 counties for Medicaid beneficiaries and uninsured people. For its palliative care (PC) initiative, CCNC has developed reliable systems to identify seriously ill Medicaid patients so that care managers (CMs) may offer opportunities for advance care planning, improved symptom management, enhanced psychosocial support and hospice referrals when appropriate. The current health care pathway unfortunately includes a trajectory of hospital admissions and high degrees of intervention for seriously ill patients. The PC initiative of CCNC looked to pause this high cost course, thereby allowing goals of care discussions and the possibility of greater concordance of patients' wishes with the care that they receive. The CCNC care managers' palliative care engagements may include assessments for physical symptoms, recognition of psychological stress, clarification of a patient's goals of care, completion of advance care planning documents, referrals to palliative care consultants or hospice, and coordination of care with the medical care team. The purpose of this evaluation was to determine if we could identify any "signal" that a PC intervention performed by CCNC care managers has impact on subsequent healthcare cost and utilization.
This evaluation examined healthcare costs and utilization for 836 deceased North Carolina Medicaid patients who met criteria for the evaluation: 207 receiving PC intervention, and 629 in the comparison group who did not.  For the intervention group, the inpatient discharge around which the patient received the palliative care intervention was referred to as the index discharge. For the control group, the first inpatient visit that occurred during the last year of the person's life was identified as the index discharge. In order to further maximize comparability with the comparison group, we stratified patients according to when they died relative to the index discharge in both groups. Following the approach described above ensured that we were comparing patients in the intervention group with patients who had similar risk of mortality, risk of admission/readmission, and similar time until mortality.
Four categories or strata of patients were created based on when death occurred relative to their earliest hospital admission during the year leading up to death. In nearly every strata, patients who received PC spent less, had fewer inpatient days, and had more hospice days during the months prior to death. When examining the cost impact overall across strata, patients in the intervention group spent $1,661 less each month from the time they received the intervention until death. Patients receiving PC also had an average of 0.5 fewer inpatient days per month, and an increase of 0.7 hospice days per month.
Results from this evaluation provide compelling evidence that there is potential savings from palliative care interventions delivered by a care manager within a primary care setting.
Author
Assistant Professor Duke University Department of Community and Family Medicine; Duke Palliative Care; Community Care of NC
Community Care of North Carolina
2300 Rexwoods Drive, Suite 100
Raleigh, NC 27607
(919) 745-2350
Co-authors
Carlos Jackson – Community Care of North Carolina
Jonathan Fischer, MD
Julian Thomas – Community Care of North Carolina