National Seminar
Enhancing Rural Hospice Care with Mobile Tablets
Topic: Leveraging Technology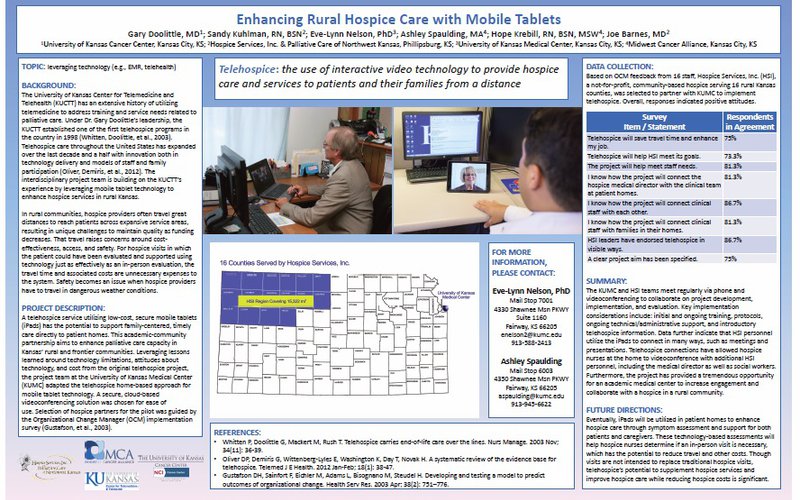 In rural communities, hospice providers often travel great distances to reach patients across expansive service areas, resulting in unique challenges to maintain quality as funding decreases. That travel raises concerns around cost-effectiveness, access, and safety. For hospice visits in which the patient could have been evaluated and supported using technology just as effectively as an in-person evaluation, the travel time and associated costs are unnecessary expenses to the healthcare system. Safety becomes an issue when hospice providers have to travel in dangerous weather conditions. A TeleHospice (TH) service utilizing low-cost, secure mobile tablets (iPads) has the potential to support family-centered, timely care directly to patient homes. This academic-community partnership aims to enhance palliative care capacity in Kansas' rural and frontier communities.
The University of Kansas Medical Center (KUMC) piloted the country's first TH service in 1998, with technology limitations, attitudes towards technology, and costs limiting broad adoption at that time. Leveraging lessons learned from this early work, an interdisciplinary team adapted the TH home-based approach for mobile tablet technology.  A secure cloud-based videoconferencing solution was chosen for ease of use.  Selection of hospice partners for the pilot was guided by Gustafson et al.'s  (2003) Organizational Change Manager (OCM) implementation survey.
 Based on OCM feedback from 16 staff, Hospice Services, Inc. (HSI), a not-for-profit community-based hospice serving 16 rural Kansas' counties, was selected to partner with KUMC to implement TH. Overall, responses indicated positive attitudes towards TH. Three-fourths of the respondents believe TH will save travel time and enhance their job. A majority (73.3%) believe TH will help HSI meet its goals, and 81.3% believe the project will help meet staff needs. Respondents overwhelmingly indicated that they know how the project will connect the hospice medical director with the clinical team at patient homes (81.3%), how it will connect clinical staff with each other (86.7%), and how it will connect clinical staff with families in their homes (81.3%). Nearly 90% believe that HSI leaders have endorsed TH in visible ways, and 75% feel that a clear project aim has been specified.
The KUMC and HSI teams meet regularly via phone and videoconferencing to collaborate on project development, implementation, and evaluation.  Key implementation considerations have included: initial and ongoing training, protocols, ongoing technical/administrative support, and introductory TH information. Data further indicate that HSI personnel utilize the iPads to connect in many ways, such as meetings and presentations. TH connections have allowed hospice nurses at the home to videoconference with additional HSI personnel, including the medical director as well as social workers. Eventually, iPads will be utilized in patient homes to enhance hospice care through symptom assessment and support for both patients and caregivers. These technology-based assessments will help hospice nurses determine if an in-person visit is necessary, which has the potential to reduce travel and other costs. Though TH visits are not intended to replace traditional hospice visits, TH's potential to supplement hospice services and improve hospice care while reducing hospice costs is significant.
Author
Director & Professor
KU Center for Telemedicine & Telehealth
4330 Shawnee Mission Pkwy, Suite 136, MS 7001
Fairway, KS 66205
(913) 588-2413
Co-authors
Ashley Spaulding, MA
Eve-Lynn Nelson, PhD
Gary Doolittle, MD
Hope Krebill, RN, BSN, MSW
Sandy Kuhlman, RN, BSN