National Seminar
Effect of a Residential Dog on Quality of Life and Loneliness in Veterans living at the North Florida/South Georgia VAMC, Community Living Center Lake City Division
Topic: Quality Improvement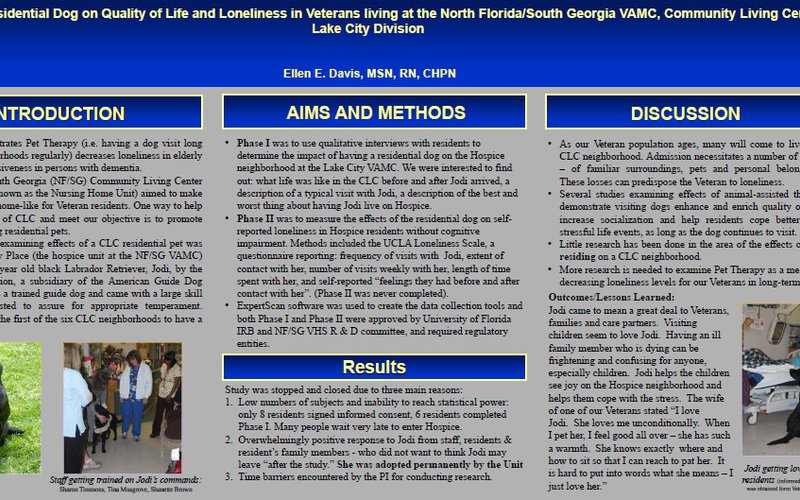 As our Veteran population ages many will come to live on our Hospice neighborhood.  Several studies demonstrate that animals enhance and enrich quality of life.  Little research has been done in the area or the effect of a dog residing on Hospice. This two-phase study was to examine the effects of having a residential pet (Jodi) on the Hospice neighborhood at the Lake City Division on NF/SG VHS.  Phase I was to use qualitative interviews with Veteran residents to determine the impact of having a residential tog the Hospice neighborhood, Phase II was to measure the effects of the residential dog on self-reported loneliness in Hospice residents without cognitive impairment. Methods included the UCLA Loneliness Scale and a questionnaire reporting frequency of visits with Jodi, extent of contact with her, number of visits weekly and self-reported "feelings they had before and after contact with her. The study was stopped and closed due to three main reasons:
Low numbers of subjects and inability to reach statistical power and time barriers encountered by the primary investigator.  It is the PI's hope that another facility with a residential dog on Hospice will see the value of continuing this study.
Author
Clinical Nurse Educator, Hospice
NF/SG VAMC
619 S Marion Ave.
Lake City, FL 32025
(386) 755-3016
Register Now
Register for the 2018 CAPC National Seminar and Pre-Conference Workshops by September 24 for Early Bird pricing.
Learn More and Register