National Seminar
Early Palliative Care in Advanced Heart Failure
Topic: Specific Patient Populations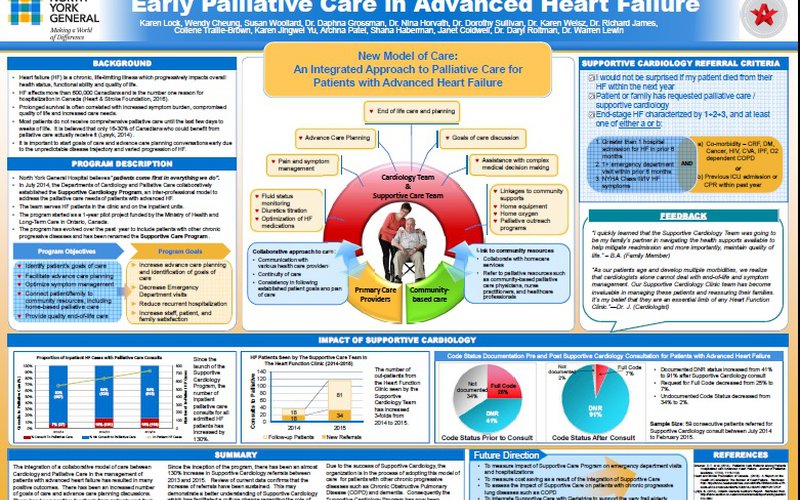 Heart Failure is a chronic, life-limiting illness that affects more than 600,000 Canadians and is the number one reason for hospitalization in Canada (Heart & Stroke Foundation, 2016).  With medical advances, this population continues to live longer.  Prolonged survival is often correlated with increased symptom burden, compromised quality of life and increased care needs.  Palliative care focuses on addressing and relieving symptoms of patients and families, and can be provided at any point during illness trajectory.  However, most patients do not receive comprehensive palliative care until the last few days to weeks of life.  It is believed that only 16-30% of Canadians who could benefit from palliative care actually receive it (Office of the General Auditor of Ontario, 2014).
At North York General Hospital (NYGH), we believe "Our patients come first in everything that we do!"  In keeping with the philosophy, the Department of Cardiology collaborated with Palliative Care to establish an interprofessional Supportive Cardiology Program to address the palliative care needs of patients with advanced heart failure in July 2014.  This program was funded as a 1-year pilot project through the Ministry of Health and Long-Term Care.  Due to the unpredictable nature and varied progression of heart failure, the program objectives are to provide support for patients and families in early identification of goals of care, facilitate advance care planning, optimize symptom management, provide quality end-of- life care and connect patients/families to community resources including home-based palliative care with the hope to increase emergency room diversion, reduce recurrent hospitalizations, and increase patient/family satisfaction.  This program serves both patients in the Heart Function Clinic and on the inpatient units.
As a result of the pilot project, the number of palliative care referrals for patients admitted to NYGH with heart failure increased in 2015 by 300% over a 2-year period. For the patients served during the study period, palliative care consultation was associated with an increase in documented end-of- life conversations and advance care planning, as well as an increase in number of requests for "Do Not Resuscitate" code status.  Palliative care integration has led to a practice change at our Heart Function Clinic and on the inpatient cardiology unit to include prognostic and future planning conversations earlier in the illness trajectory for patients with advanced heart failure. The completion of the project has impacted on culture change and organizational commitment. The Supportive Cardiology Program has expanded to serve other incurable progressive chronic diseases.  The palliative care team has established a formal collaboration with the respirologists and other interprofessional members to provide early palliative care to patients with advanced chronic obstructive pulmonary disease.  Funding for a full-time nurse practitioner was secured and the clinic has been renamed to "Supportive Care Clinic".  The NYGH team will share their experience with program development, use of referral criteria, model of care, screening tools, successes and challenges.
Author
North York General Hospital
4001 Leslie Street
Toronto
(416) 756-6000
Co-authors
Archna Patel
Collene Traille-Brown
Daphna Grossman
Daryl Roitman
Dorothy Sullivan
Janet Coldwell
Karen Lock
Karen Weisz
Karen Yu
Nina Horvath
Richard James
Shana Haberman
Susan Woollard
Warren Lewin
Wendy Cheung