National Seminar
An e-App to foster symptom documentation and intervention
Topic: Leveraging Technology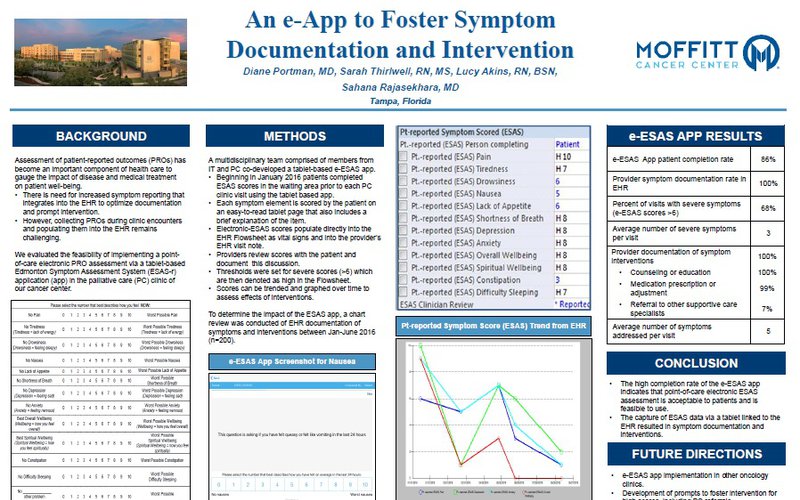 Background:  Assessment of patient-reported outcomes (PROs) has become an important component of health care to gauge the impact of disease and medical treatment on patient well-being.  There is need for increased symptom reporting that integrates into the EHR to optimize documentation and prompt intervention.  However, collecting PROs during clinic encounters and populating them into the EHR remains challenging.  We evaluated the feasibility of implementing a point-of-care electronic PRO assessment via a tablet-based Edmonton Symptom Assessment System (ESAS) application (app) in the palliative care (PC) clinic of our cancer center.
Methods: A multidisciplinary team comprised of members from IT and PC co-developed a tablet-based e-ESAS app. Beginning in January 2016 patients completed ESAS scores in the waiting area prior to each PC clinic visit using the tablet based app. Each symptom element is scored by the patient on an easy-to-read tablet page that also includes a brief explanation of the item.  Electronic-ESAS scores populate directly into the EHR Flowsheet as vital signs and into the provider's EHR visit note.  Thresholds were set for severe scores which are then denoted as high in the Flowsheet and note.  Scores can be trended and graphed over time to assess effects of interventions.   To determine the impact of the ESAS app, a chart review was conducted of EHR documentation of symptoms and interventions between January to June 2016.
Results: In the initial 4 week period following implementation, 86% of patients seen in the oncology PC clinic completed symptom reporting via the e-ESAS app. The documentation of symptoms in the EHR was 100% for encounters for which the app was completed. From January through June, 68% of visits noted symptom scores exceeding a severity of 6, with an average of 3 severe symptoms per visit.  All visits had documentation of intervention for symptoms, with an average of 5 symptoms addressed per visit. One hundred per cent of records noted provision of counseling or education, 99% reported medication prescription or adjustments, and 7% documented referrals to other supportive care specialists.
Conclusion:  The high completion rate of the e-ESAS app in our clinic indicates that point-of-care electronic ESAS assessment is acceptable to patients and is feasible to use to capture patient-reported symptoms in the oncology PC setting. The capture of ESAS data via a tablet linked to the EHR resulted in symptom documentation and interventions.  Future directions include ESAS app implementation in other oncology clinics and development of prompts to foster intervention for high scores, including PC referrals. 
Author
Chair, Department of Supportive Care Medicine
Moffitt Cancer Center
12902 Magnolia Dr., MRC-SCM
Tampa, FL 33612
(813) 745-7383
Co-authors
Diane Portman, MD, FAAHPM
Lucy Akins, BSN, RN, CHPN
Sahana Rajasekhara, MD
Sarah Thirlwell, MS, RN, AOCNS, CHPN