National Seminar
Collaborative Care: Decreasing Unwanted Readmissions
Topic: Continuity of Care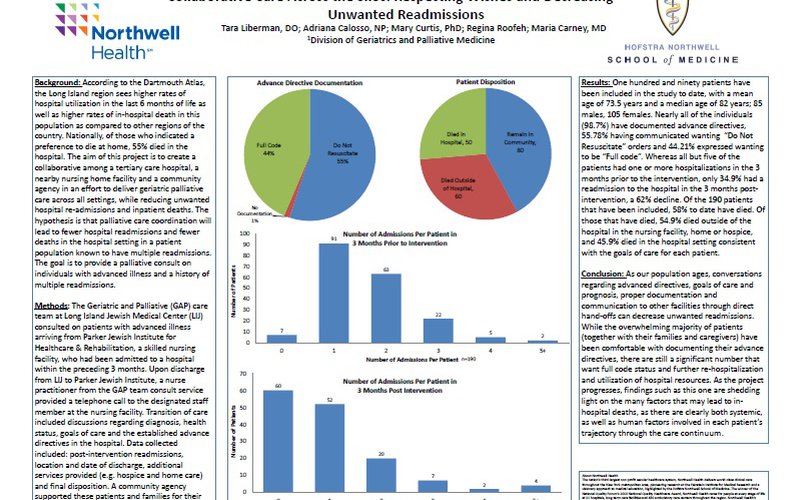 Background: According to the Dartmouth Atlas, the Long Island region sees higher rates of hospital utilization in the last 6 months of life and higher rates of in-hospital death in this population as compared to other regions of the country. Nationally, of those who indicated a preference to die at home, 55% died in the hospital. The aim of this project is to create a collaborative among a tertiary care hospital, a nearby nursing home facility and a community agency in an effort to deliver geriatric palliative care across all settings, while reducing unwanted hospital re-admissions and inpatient deaths. The hypothesis is that palliative care coordination will lead to fewer hospital readmissions and fewer deaths in the hospital in a patient population known to have multiple readmissions. The goal is to provide a palliative consult on individuals with advanced illness and a history of multiple readmissions.
Methods: The Geriatric and Palliative (GAP) care team at Long Island Jewish Medical Center (LIJ) consulted patients with advanced illness arriving from Parker Jewish Institute for Healthcare & Rehabilitation, a skilled nursing facility, who had been hospitalized within the preceding 3 months. Upon discharge from LIJ to Parker Jewish Institute, a nurse practitioner from the GAP consult service provided a telephone call to the designated staff member at the nursing facility. Transition of care included discussions regarding diagnosis, health status, goals of care, and established advance directives. Data collected included: post-intervention readmissions, location and date of discharge, additional services provided (e.g. hospice and home care), and final disposition. A community agency supported patients and families for their psychosocial needs.
Results: Two hundred patients have been included in the study to date, with a median age of 82 years; 89 males, 111 females. Nearly all patients (98.7%) have documented advance directives, with 55% wanting "Do Not Resuscitate" orders and 44.5% wanting "Full code" status. Of included patients, 174 were discharged back into the community. While 97.5% of patients had one or more hospitalizations within 3 months prior to the intervention, only 47.7% of the discharged patients were hospitalized within 3 months post-intervention, a 49.8% decline. Of the discharged patients, 99 have died to date, with 62.6% dying outside of the hospital in the nursing facility, home, or hospice, and 37.4% dying in the hospital setting consistent with their goals of care.
Conclusion: As our population ages, conversations regarding advanced directives, goals of care and prognosis, proper documentation, and communication to other facilities can decrease unwanted readmissions. While the overwhelming majority of patients (together with their families and caregivers) have been comfortable with documenting their advance directives, there are still a significant number that want full code status and further re-hospitalization and utilization of hospital resources. As the project progresses, findings such as this shed light on the many factors that may lead to in-hospital deaths, as there are clearly both systemic and human factors involved in each patient's trajectory through the care continuum.
Author
Associate Chief, Northwell health
North Shore University Hospital at Northwell Health
300 Community Drive
Manhasset, NY 11030
(718) 470-3115
Co-authors
Adriana Calosso, NP
Maria Carney, MD
Mary Curtis, PhD
Regina Roofeh, BS
Tara Liberman, DO