National Seminar
CarePoint™: A System Level Approach to CB Palliative Care
Topic: Measuring Impact and Value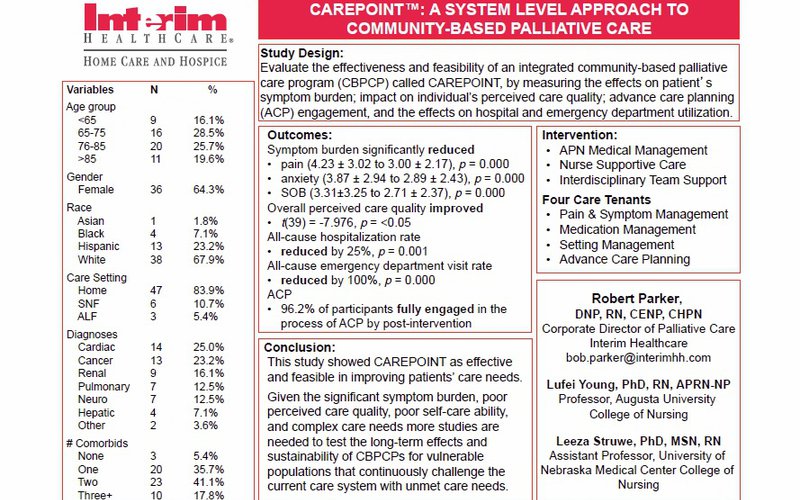 Background:  CBPC programs have potential to deliver improved quality of life & cost-effective health outcomes for a vulnerable population.  Research in the development & evaluation of CBPC programs is scant.  Lack of evidence has significant implications for a population in need of cost-effective care solutions that promote QoL, & drive quality health outcomes at end of life.  CarePoint™ is a CBPCP operated as a system of care by Falcon Healthcare, Inc., a franchisee of Interim Healthcare, reimbursed thru traditional fee-for- service payment mechanisms, accountable care organizations, and bundling agreements.
Objective:  Evaluate CarePoint's effect on patient's self-reported symptom burden and QoL, advance care planning engagement, & healthcare utilization; provider's impact on patient's care quality perception; & system outcomes associated with aggregate costs.
Methods: 30-day pretest-posttest intervention.  56 patients who received services March - July 2016 were included.  Participants were eligible if they resided in a home, skilled nursing facility, assisted living facility, or group home, at least 18-years of age, spoke English, and had Brief Mental Status Interview score 13+.  Clinical data was collected thru prospective chart audits for ACP engagement, hospital, and ED utilization; Edmonton System Assessment System Revised scores for symptom burden, EuroQol EQ-5D- 5L for health state, Patient Assessment of Care for Chronic Conditions for care quality agreement.  Study included active CarePoint program locations - an average daily census of 647 patients covering two geographical regions within Texas.  Two West Texas programs cover 41 counties, rural with an active daily census of 364 patients.  2 Central Texas programs cover 19 counties, slightly urban with an active daily census of 283 patients.  Interdisciplinary team supports CarePoint, the intervention.  Primary team includes certified hospice and palliative care advance practice nurses, registered nurses or licensed vocational nurses that provide direct medical/supportive care services under supervision of a board certified hospice and palliative care physician.  Secondary team includes home health and hospice social workers, hospice chaplains, and volunteers.
Results: Fifty-two participants (80.6%) completed the study.  At 30-days hospitalizations were significantly reduced by 25% and ED utilization by 100% with an adjusted potential cost savings of 1.6M across the program. Patient's perceived care quality agreement improved significantly by 51.79%.  Reported symptom burden was statistically significantly different for pain p = 0.000, depression p = 0.014, anxiety p = 0.019, and well-being p = 0.003, and the overall EuroQol visual analog scale (EQ VAS) slightly improved from 47 to 51 (0 = worst health you can imagine; 100 = best health you can imagine).
Conclusions:  A CBPCP, delivered via medical and supportive care services, proved to be a feasible and effective delivery model in managing patients with end of life needs. Implications: Pilot study adds to the scant body of evidence for CBPCP design & evaluation as a foundation for other studies to compare outcomes, and determine long-term effects.
Author
Corporate Director of Palliative Care
Interim Healthcare Home Care and Hospice
506 Brushy Branch Rd
Lockhart, TX 78644
(806) 782-2976
Co-authors
Leeza Struwe
Lufei Young
Robert Parker