National Seminar
Building Primary PC Competencies in Optum LTC APRNs
Topic: Education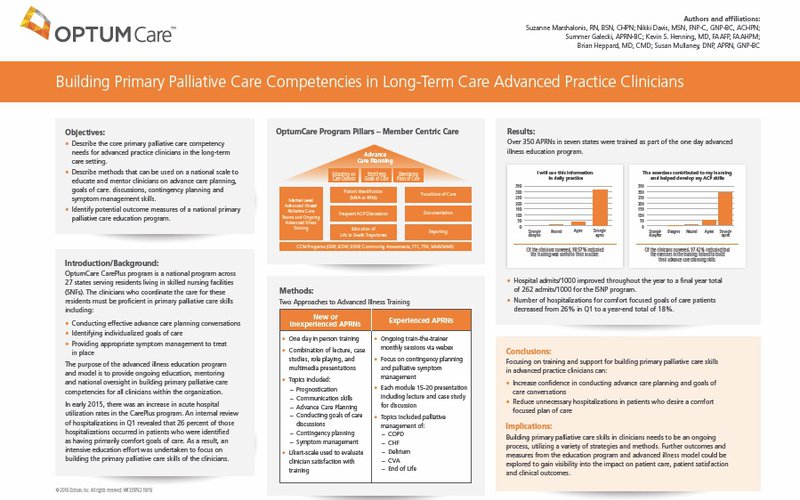 Objectives:
Describe the primary palliative care competency needs for nurse practitioners in the long term care (LTC) setting
Describe methods that can be used on a national scale to educate and mentor APRNs on primary palliative care (PC) skills
Background: The Optum Institutional Special Needs Plan (ISNP) program serves residents of LTC facilities utilizing advanced practice clinicians to deliver longitudinal care.  Effective delivery of this program requires each clinician to be proficient in primary PC competencies including conducting advance care planning conversations, identifying goals of care, and providing appropriate symptom management. The purpose of the advanced illness program is to provide ongoing education, mentoring, and national oversight in building primary PC competencies for clinicians within the organization.
In early 2015, there was an increase in acute hospital utilization rates in the ISNP program.  An internal review of hospitalizations in Q1 revealed that 26% of those hospitalizations occurred in patients who were identified as having primarily comfort goals of care.  As a result, an intensive education effort was undertaken to focus on building the primary PC skills of the Optum clinicians.

Methods: Two approaches provided the intensive focus on the advanced illness education program in 2015.  For states with a high number of new APRNs or APRNs that lacked PC experience, a one day in-person training program was conducted to teach primary PC skills. 
In states with more senior staff and an established "advanced illness team", a train-the-trainer approach was utilized focusing on contingency planning and symptom management.
Results: Three hundred fifty clinicians across seven states were trained as part of the one day education program.  They completed surveys at the completion of the training which indicated that 341 (97.42%) felt that the program helped build their advance care planning skills and 290 (83.14%) strongly agreed with the statement "The exercises contributed to my learning and helped develop my ACP skills." Additionally, 345 (98.57%) of the clinicians indicated the training was useful to their practice and 309 (88.29%) strongly agreed with the statement "I will use this information in daily practice."
The hospital admits/1000 improved throughout the year to a final year total of 262 admits/1000 for the ISNP program.  An internal review of the hospitalizations indicated that the number of hospitalizations for comfort focused goals of care patients decreased from 26% in Q1 to a year-end total of 18%.

Conclusions: Focusing on training and ongoing support for building primary PC skills in advanced practice clinicians impacts clinician confidence in conducting advance care planning conversations and can reduce unnecessary hospitalizations in patients who desire a comfort focused plan of care.

Implications: Building primary PC skills in advanced practice clinicians needs to be an ongoing process utilizing a variety of methods.  Further outcomes/measures from the education program and model could be explored to gain visibility into the impact on patient care, patient satisfaction, and clinical outcomes.
Author
Director of Clinical Operations
East Region, Optum Complex Care Management
11000 Optum Circle
Eden Prairie, MN 55344
(877) 765-4445
Co-authors
Brian Heppard, MD, CMD
Kevin Henning, MD, FAAFP, FAAHPM
Nikki Davis, MSN, FNP-C, GNP-BC, ACHPN
Summer Galecki, APRN-BC
Susan Mullaney, DNP, APRN, GNP-BC
Suzanne Marshalonis, RN, BSN, CHPN