National Seminar
Bringing Palliative Care & Geriatrics to Primary Care
Topic: Palliative Care Models by Setting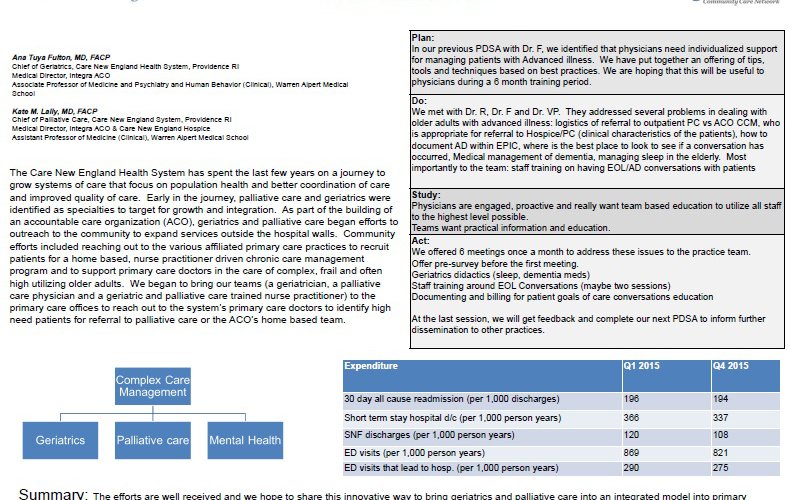 The Care New England Health System has spent the last few years on a journey to grow systems of care that focus on population health and better coordination of care and improved quality of care.  Early in the journey, palliative care and geriatrics were identified as specialties to target for growth and integration.  As part of the building of an accountable care organization (ACO), geriatrics and palliative care began efforts to outreach to the community to expand services outside the hospital walls.  Community efforts included reaching out to the various affiliated primary care practices to recruit patients for a home based, nurse practitioner driven chronic care management program and to support primary care doctors in the care of complex, frail and often high utilizing older adults.  We began to bring our teams (a geriatrician, a palliative care physician and a geriatric and palliative care trained nurse practitioner) to the primary care offices to reach out to the system's primary care doctors to identify high need patients for referral to palliative care or the ACO's home based team.  With grant funding through the HRSA Geriatric Workforce Enhancement Program, this effort was expanded to include teaching and on-site case discussions to not only identify high need patients, but also to provide the primary care physician, their nurses and staff with education around topics of interest, having and encouraging goals of care conversations, and best practices in management of those with advanced illness.  The efforts are well received and we hope to share this innovative way to bring geriatrics and palliative care into an integrated model into primary care to not only provide care to patients at need, but also to provide education and increased comfort to the staff and physicians practicing in primary care.  We will share the model, several practice specific experiences and data around outcomes that are available at the time of the meeting.
Author
Chief of Geriatrics
Care New England Health System
45 Willard Avenue
Providence, RI 02905
(401) 455-6362
Co-authors
Register Now
Register for the 2018 CAPC National Seminar and Pre-Conference Workshops by September 24 for Early Bird pricing.
Learn More and Register