National Seminar
Better Outcomes with Palliative Care Staff Education
Topic: Education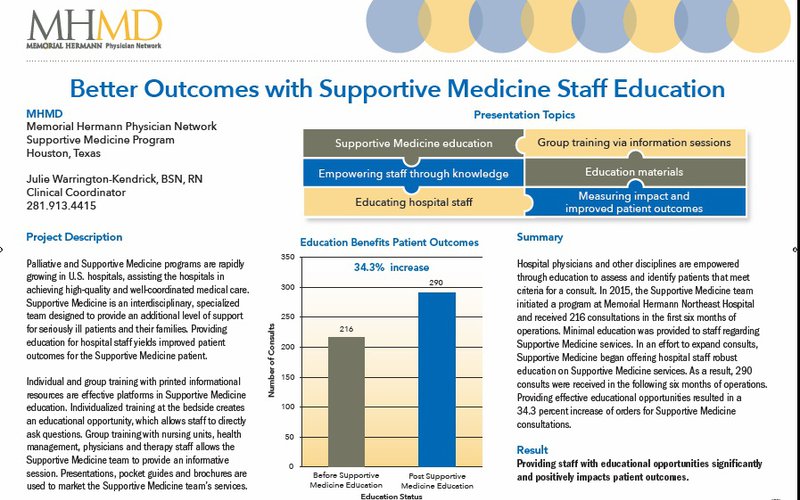 Palliative and Supportive Medicine programs are rapidly growing in U.S. hospitals and are assisting them to achieve high-quality and well-coordinated medical care.  Supportive Medicine is an interdisciplinary specialized team designed to provide an extra layer of support for seriously ill patients and their families.  Providing education for hospital staff yields improved patient outcomes for the Supportive Medicine patient.  Diane Meier, MD, director of the Center to Advance Palliative Care (CAPC) states, "Education does change behavior, and changes in behavior change outcomes that matter to patients and their families."
Education and training of hospital staff can be achieved by several different platforms.  Individual and group training with printed educational resources are effective platforms in Supportive Medicine education.  The interdisciplinary team provides individualized education at the bedside creating an educational opportunity, which allows staff to ask questions directly.  Group training with nursing units, care management, physicians and therapy staff allows the Supportive Medicine team to provide an informative session.  These training classes are scheduled with the hospital's educational department and are presented during quarterly, annual and new employee orientations.  PowerPoint presentations, printed pocket guides, brochures, and flyers are used to market the Supportive Medicine team's services and contact information.
Nurses, physicians, therapists, and case management staff have been empowered through education to assess and identify patients that meet criteria for a Supportive Medicine consult.  In 2015 consultations received in the first 6 months of operation in the hospital setting with minimal education were 216. In contrast, 290 consults were received in the first 6 months of 2016 due to a robust educational program, which resulted in a 25.6% increase.  Therefore, effective educational programs benefit hospital staff in recognizing patients needing a Supportive Medicine consult.
Author
RN Coordinator
Memorial Hermann Physician Network (MHMD)
909 Frostwood Drive
Houston, TX 77024
(281) 913-4415
Register Now
Register for the 2018 CAPC National Seminar and Pre-Conference Workshops by September 24 for Early Bird pricing.
Learn More and Register