National Seminar
Barriers to End of Life Communication: How Can We Address Them?
Topic: Quality Improvement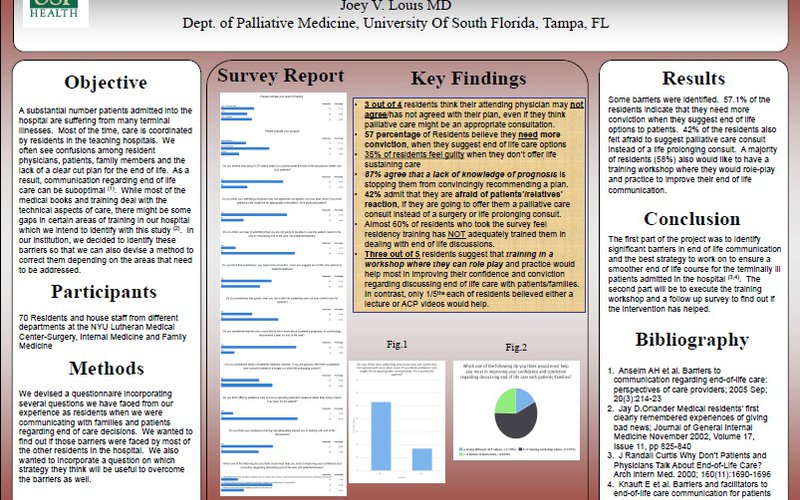 Introduction: A substantial number of patients admitted to the hospital are suffering from a terminal illness.  In the teaching hospitals, care is usually coordinated by residents.  We often see confusion among resident physicians, patients and family members and the lack of a clear plan for the end-of-life.  As a result, communication regarding end-of-life care can be suboptimal.  In our institution, we decided to identify barriers to communication around end-of-life care in order to devise a method to overcome them. 
Methods: We devised a questionnaire consisting of 9 questions we encountered during our experience as residents when communicating with families and patients regarding end-of-life care decisions.  Residents and house staff from the departments of Surgery, Internal Medicine and Family Medicine were asked to do the survey online or on a paper document over one month period.  We also incorporated a question on which strategy they think will be useful to overcome these barriers.
Results: A total of 70 residents and house staff participated in the study. MS excel was used to collate the data and descriptive statistics was used to analyze it.  Some barriers were identified.  Fifty-seven percent of the residents indicated that they need more conviction when they suggest end-of-life options to patients.  Forty-two percent of the residents also felt afraid to suggest a palliative care consult instead of a life-prolonging treatment. Slightly more than half of the residents (58%) would like a training workshop where they would role-play and practice to improve their end-of-life communication skills.

Conclusion: Our questionnaire suggested that the common barriers to end-of-life communication for residents were: lack of confidence and fear to discuss end-of-life care.  The proposed next step based on the survey would be to conduct and assess the effectiveness of a communication training workshop, suggested by the participants.
Author
Fellow- Hospice and Palliative Medicine
University of South Florida
4202 E Fowler Ave
Tampa, FL 33620
(813) 974-2011