National Seminar
Automatic Screening to Identify Palliative Care Patients
Topic: Screening for Palliative Care Patients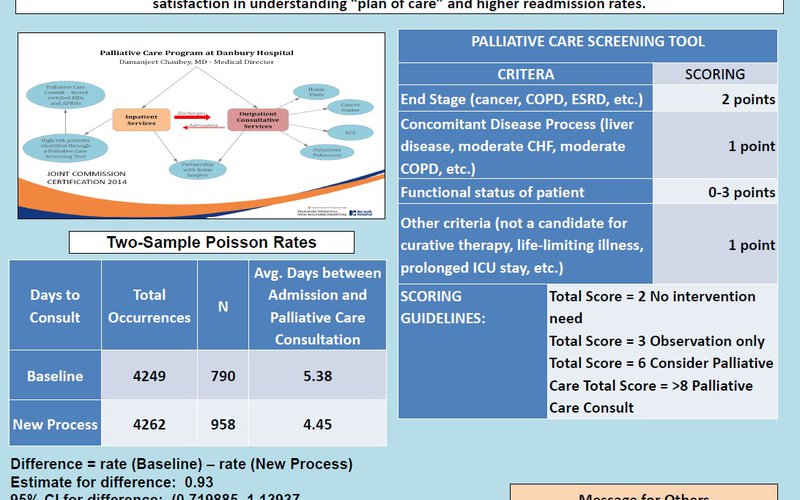 Staff from an established Palliative Care Team (PCT) in western Connecticut identified a gap in identifying patients appropriate for a palliative care consults.  Patients were only being identified following multiple hospitalizations, despite having a serious, life-limiting illness.  The PCT recognized that hospitalized patients could benefit from palliative care consult were being missed and not seen in a timely manner which was leading to increased readmission and longer length of stay. The Palliative Care Team (PCT) examined medical records of patient to determine to determine baseline data in time from admission to palliative care consults and their length of stay.  Results showed the Team's median days from admission to initial consult was 3 days and the average length of stay was around 11 days.  A palliative care screening tool was created and implemented as part of the admission nursing assessment. The screening was to be done with all admissions, and can also be repeated anytime during hospitalization.  Education about the new process and tool was conducted for all physicians and nurses hospital wide.  In Patients who scored an eight or higher, an automatic consult was placed into the medical record, and an alert was sent to the team. The palliative care team then measured the number of referrals, time to consult, length of stay, and readmission.  Forty-one percent of patients admitted to the medical-surgical services have been screened. Since implementation of the screening tool, the palliative care service has seen and increases in consults, a decrease in days to consult to two, and a decrease in readmissions.  Patient and family satisfaction has also increased as a result of early consult and creation of a patient-centered plan of care.
Author
Network Director Palliative Care
Western Connecticut Health Network
24 Hospital Avenue
Danbury, CT 06810
(203) 885-6267
Co-authors
Damanjeet Chaubey, MD, MPH
Karen Mulvihill, DNP, AHCPN
Moreen Donahue, DNP, FAAN
Register Now
Register for the 2018 CAPC National Seminar and Pre-Conference Workshops by September 24 for Early Bird pricing.
Learn More and Register