National Seminar
Alternative Payment for Palliative Care Across Settings
Topic: Payment Models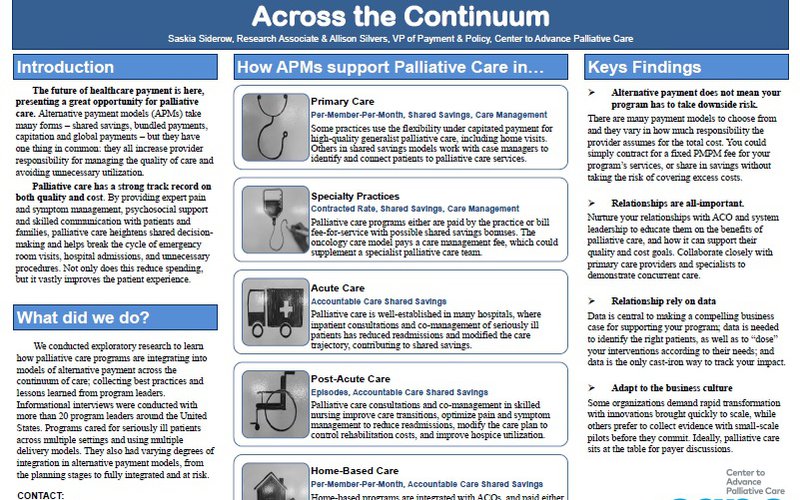 The future of healthcare payment is here, presenting an unprecedented opportunity for palliative care. Alternative payment models (APMs) take many forms – shared savings, bundled payments, capitation and value-based purchasing – but they have one thing in common: they all increase provider responsibility for managing the quality of care and controlling unnecessary utilization. Palliative care has a strong track record on both quality and cost. By providing expert pain and symptom management, psychosocial support and skilled communication with patients and families, palliative care helps patients and families break the exhausting cycle of emergency room visits, hospital admissions, and unnecessary procedures. Not only does this reduce spending, but it vastly improves the patient experience.
We conducted exploratory research to learn how palliative care programs are integrating into models of alternative payment across the continuum of care; and to collect best practices and lessons learned from program leaders. Informational interviews were conducted with more than 20 program leaders around the United States. Programs cared for seriously ill patients across multiple settings and using multiple delivery models. They also had varying degrees of integration in alternative payment models, from the planning stages to fully integrated and at risk.
Author
Vice President, Payment and Policy
Center to Advance Palliative Care
55 W 125th Street, Suite 1302
New York, NY 10027
(212) 824-9572
Co-authors
Allison Silvers, MBA
Saskia Siderow
Register Now
Register for the 2018 CAPC National Seminar and Pre-Conference Workshops by September 24 for Early Bird pricing.
Learn More and Register