National Seminar
Allowing Natural Death in the Emergency Department
Topic: Quality Improvement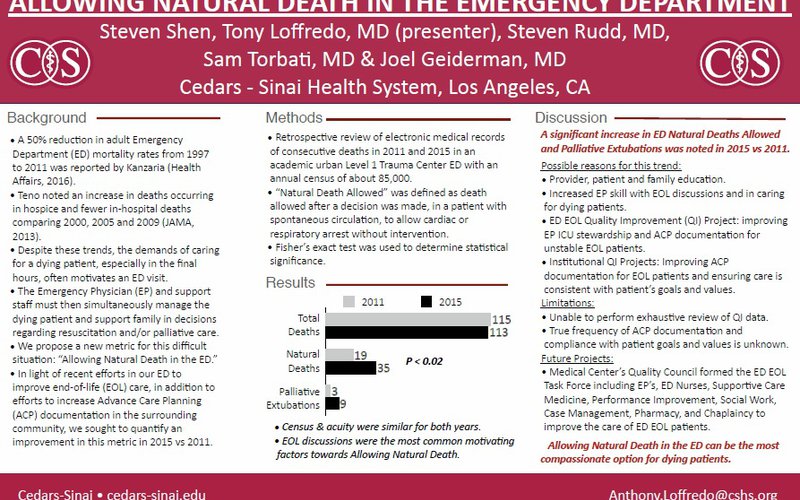 STUDY OBJECTIVE: A 50% decrease in the mortality rate of Emergency Department (ED) patients nationwide was reported by Kanzaria in July, 2016.  This is thought to be due, at least in part, to the increased proportion of deaths now occurring in hospice settings.  Despite these trends, the demands of caring for a patient at the EOL, especially in the final hours, often motivates a visit to the ED.  Emergency Physicians (EPs), who may be uncomfortable managing dying patients, are then charged with the complicated task of managing a critically ill patient and family who are typically emotionally overwhelmed and often conflicted. We propose a metric for this difficult situation: allowing natural death in the ED.  In light of efforts to improve EOL care in our ED, and to increase Advance Care Planning (ACP) documentation in the surrounding community, we sought to quantify an improvement of this metric over the past 5 years.

METHODS: This retrospective chart review was conducted at an academic urban Level 1 Trauma Center ED with an annual census of approximately 85,000 patients. Electronic medical records (EMR) of consecutive patients who expired in the ED in the years of 2011 and 2015 were reviewed. Patients who suffered cardiac arrest prior to ED arrival and could not be resuscitated were excluded from this analysis.  All other patients who expired in the ED during these time periods were included for review regardless of age and gender.  The reviewers determined whether natural death was allowed in the ED and what data points were used to assist with that decision, such as family request or preexisting ACP document, such as a Physician Orders for Life Sustaining Treatment (POLST), Do Not Resuscitate (DNR) orders from referring facilities, or Advanced Directives.  Fisher's exact test was used for analyzing a potential difference between these two 12-month periods.

RESULTS: ED deaths totaled 115 in 2011 and 113 in 2015, with natural death accounting for 19 (16.5%) patients in 2011 compared to 35 (30.9%) in 2015 (p < 0.02).   Three patients were terminally extubated in 2011 compared with 9 in 2015.  Family input was the most common source of information leading to a decision towards natural death.  Overall ED census, patient demographics, acuity, and ICU and non-ICU admission rates were similar in 2011 compared to 2015.

DISCUSSION: The number of natural deaths allowed in our ED significantly increased in 2015 compared to 2011 suggesting increased EP comfort and expertise in appropriately managing patients at the end of life.  Other contributing factors may include improved ACP documentation, patient and family education, or changes in ED culture.  Further study may clarify the frequency of ACP documentation, missed opportunities for natural death in the ED, perhaps the additional longer term benefits of skillful EOL conversations by EP's, and opportunities to improve the quality of the EOL experience for patient and their families.
Author
Emergency Physician -ED Director of Palliative Care
Cedars Sinai Emergency Department.
8700 Beverly Blvd.
Los Angeles, CA 90048
(310) 423-3277
Co-authors
Anthony Loffredo
Joel Geiderman
Sam Torbati
Steven Rudd
Steven Shen