National Seminar
The WellMed Bridges in Complex Care Program: Comprehensive Palliative Care Across the Continuum
Topic: Palliative Care Models by Setting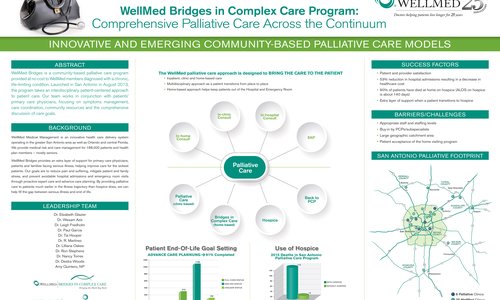 The WellMed's "Bridges" community-based palliative care program launched in San Antonio in August 2013.The Palliative care team, which consists of RNs, LVNs, MAs, SWs, NPs and MDs, utilize a multi-disciplinary approach to patient care.  Working alongside the patient's primary care physician, we are able to provide patient-centered care, often in the comfort of the home.  Bridges is provided at no cost to WellMed members diagnosed with chronic, life-limiting conditions. The initial evaluation includes geriatric and palliative care assessments either in the patient's home or in one of our subspecialty palliative care clinics.   The program focuses on effective symptom management, care coordination and comprehensive advanced care planning.  In San Antonio, the program has demonstrated a greater than 40% cost reduction through the avoidance of unnecessary hospitalizations and emergency room visits.  Transitions to hospice occur earlier, which has allowed 90% of our patient deaths to occur in the home.  Due to the success of the program, WellMed has expanded Bridges into El Paso, Austin, Corpus Christi, and the Rio Grande Valley. By targeting and enabling palliative services for patients much earlier in the illness trajectory than hospice, the Bridges program is "filling the gap" between serious illness and end of life care.
Author
Medical Director, Palliative Care Program
WellMed Medical Management
1719 Fawn Bluff
San Antonio, TX 78248
(205) 639-8805
Co-authors
Amy Quintero, NP
Dr. Deidra Woods
Dr. Leigh Fredholm
Dr. Liliana Oakes
Dr. Nancy Torres
Dr. Paul Garcia
Dr. R. Martinez
Dr. Ron Stephens
Dr. Tia Hooper
Dr. Wesam Aziz
Register Now
Register for the 2018 CAPC National Seminar and Pre-Conference Workshops by September 24 for Early Bird pricing.
Learn More and Register