National Seminar
VNS /Hospital Partnership for In Home Palliative Care
Topic: Health System Strategies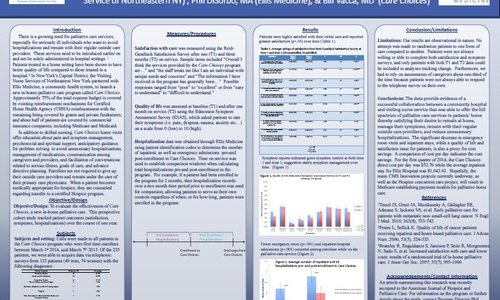 There is a growing need for home-based palliative care services, especially for seriously ill individuals who want to avoid hospitalizations and remain with their regular outside care providers.  This poster will describe Care Choices, a new in-home palliative care program provided through a visiting nurse serve (VNS) and community hospital serving New York's Capital District.  The program was evaluated through a service learning partnership with researchers at a local college who collected data on patient satisfaction, quality of life, and hospitalizations among enrollees over the course of one year.  Phone interviews were conducted on 123 patients at baseline, one month, and three months on service.  Results revealed that patients were highly satisfied with their initial care and reported greater satisfaction and stable symptom management over time.  In addition, fewer emergency room and inpatient hospital admissions occurred while on the service.  The results suggest that an in-home palliative care program offered jointly through a local VNS and community hospital may be a successful model for providing the full spectrum of palliative care services in a patient's home, thereby satisfying seriously ill patients' desires to remain at home, manage symptoms, retain regular care providers, and reduce hospitalizations.
Author
Visiting Nurse Service of Northeastern New York
Schenectady, NY
Co-authors
Bill Vacca, MD (Care Choices)
Carol S. Weisse, PhD (Union College)
David S. Pratt, MD, MPH (Visiting Nurse Service of Northeastern NY)
Katherine Pouliot (Union College)
Phil DiSorbo, MA (Ellis Medicine)
Register Now
Register for the 2018 CAPC National Seminar and Pre-Conference Workshops by September 24 for Early Bird pricing.
Learn More and Register