National Seminar
Value Based Conversations in Diverse Communities
Topic: Specific Patient Populations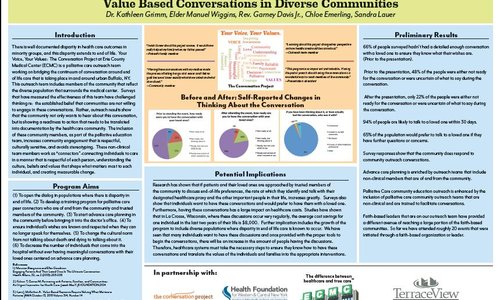 There is well documented disparity in health care outcomes in minority groups, and this disparity extends to end of life. The Conversation Project at Erie County Medical Center (ECMC) is a palliative care outreach team working on bridging the continuum of conversation around end of life care that is taking place in and around urban Buffalo, NY. This outreach team includes members of the community that reflect the diverse population that surrounds the medical center.  Surveys that have measured the effectiveness of this team have challenged thinking re: the established belief that communities are not willing to engage in these conversations. Rather, outreach results show that the community not only wants to hear about this conversation, but is showing a readiness to action that needs to be translated into documentation by the health care community. The inclusion of these community members, as part of the palliative education team, increases community engagement that is respectful, culturally sensitive, and avoids stereotyping. These non-clinical team members work as "connectors"-connecting individuals to care in a manner that is respectful of each person, understanding the culture, beliefs and values that shape what matters most to each individual, and creating measurable change.
Author
Consultant
Erie County Medical Center
462 Grider Street
Buffalo, NY 14215
(716) 472-0035
Co-authors
Chloe Emerling
Elder Manuel Wiggins
Rev. Garney Davis Jr
Sandra Lauer
Register Now
Register for the 2018 CAPC National Seminar and Pre-Conference Workshops by September 24 for Early Bird pricing.
Learn More and Register