National Seminar
Utilizing the EHR to Advance Palliative Care
Topic: Leveraging Technology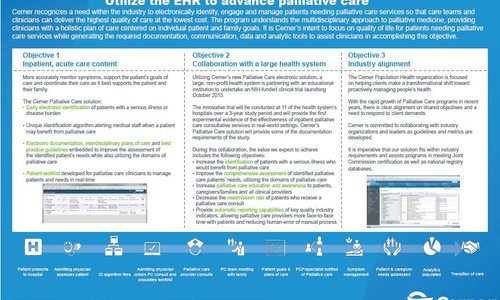 Cerner Corporation recognizes a need within the industry to electronically identify, engage and manage palliative care patients so that Care Teams and Providers can deliver the highest quality of care at the lowest cost. The program understands the multi-disciplinary approach to palliative medicine, providing clinicians with a holistic plan of care centered on individual patient and family goals. It is Cerner's intent to focus on quality of life for palliative care patients while generating the required electronic documentation, communication, data and analytic tools to assist providers in accomplishing this objective. 
Utilizing Cerner's new Palliative Care electronic solution, Ascension Health is partnering with the University of Pennsylvania to undertake an NIH-funded clinical trial launching October 2015. The innovative trial will be conducted at 11 Ascension Health hospitals over a 3-year study period and will provide the first experimental evidence of the effectiveness of inpatient palliative care consultative services in real-world settings. 
Cerner is also committed to collaborating with industry organizations and leaders as guidelines and metrics are developed. It is imperative that our solution fits within industry requirements and assists programs in meeting Joint Commission certification as well as national registry databases.
Author
Strategist
Cerner Corporation
8010 Ward Parkway Plz
Kansas City, MO 64114
(816) 835-2107
Co-authors
Justin Kimbrell, Strategist Program Design Development
Marsha Laird-Maddox, Sr. Engagement Leader