National Seminar
Using the "Surprise Question" in Primary Care
Topic: Screening for Palliative Care Patients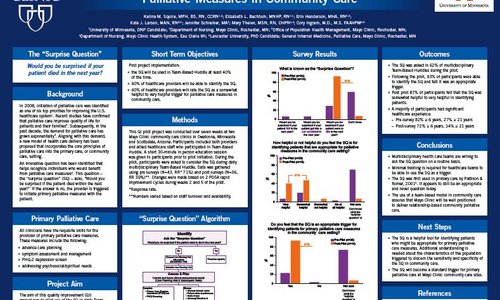 A new model of health care delivery has been proposed that incorporates the core principles of palliative care into the primary care setting. A question has been identified that helps recognize individuals who would benefit from palliative care measures. This question – the surprise question (SQ) – asks, "Would you be surprised if the patient died within the next year?" If the answer is no, the provider is triggered to initiate palliative measures with the patient. These measures include the following: advance care planning, spiritual assessments, symptom assessment and management, and a routine Patient Health Questionnaire (PHQ)-2 depression screen. Because this is a relatively new innovation, research specific to use of the SQ in the primary care setting is limited but promising. A quality improvement project is underway to assess use of the SQ in primary care as a trigger for palliative care measures. During a daily multidisciplinary huddle, participants will be asked to consider the SQ and identify patients who would benefit from palliative care. The use of a team-based model in Primary Care assures that Mayo Clinic will be well positioned to deliver relationship-based palliative care.
Author
Staff Nurse
Mayo Clinic, Office of Population Health Management
1025 2nd ave.
Rochester, MN 55901
(541) 663-6741
Co-authors
Cory Ingram, M.D., M.S. FAAHPM
Elizabeth L. Bechtum, MNHP, RN
Erin Henderson, MHA, RN
Jennifer Schreiber, MA
Kate J. Larson, MAN, RN
Mary Thelen, MSN, RN, CHPN
Register Now
Register for the 2018 CAPC National Seminar and Pre-Conference Workshops by September 24 for Early Bird pricing.
Learn More and Register