National Seminar
Using Case Conflict to Improve Consulting Relationships
Topic: Quality Improvement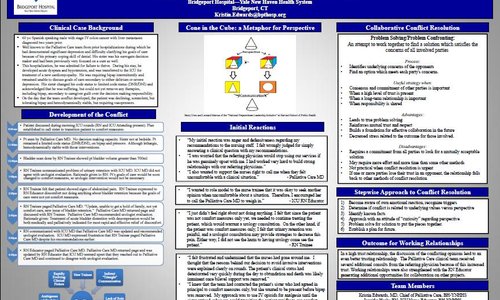 A clinical case in the Intensive Care Unit generated conflict about how to manage acute urinary retention in a dying patient whose goals of care were ambiguous.  Initial communication around this conflict created potential for misunderstanding and impaired relationships between consulting team, nursing staff, and referring team.  We took a collaborative approach to resolving the conflict and considered the issues at hand, which included: staff discomfort with ambiguous goals of care, role of the consulting team in acute problem management, consultation etiquette, and conflict resolution for triangled relationships.  Utilizing a systematic approach to the conflict, all involved parties were able to resolve the conflict and consequently strengthened their relationships with each other, generating further consults in the very same week. The case presented an example of how to use this collaborative approach to best grow the consultation service, as well as meet the staff needs in situations of moral distress.
Author
Chief of Palliative Care
Bridgeport Hospital—YNHHS
New Canaan, CT 06840
(203) 337-8558
Co-authors
Jennifer Healy, RN, ICU Nurse Educator, BH-YNHHS
John-Paul Ayala, MD
Kristin Edwards, MD, Chief of Palliative Care, BH-YNHHS
Laura Ritter, RN, ICU Staff Nurse
Register Now
Register for the 2018 CAPC National Seminar and Pre-Conference Workshops by September 24 for Early Bird pricing.
Learn More and Register