National Seminar
Using Accessibility of Email to Address Grief & Loss
Topic: Leveraging Technology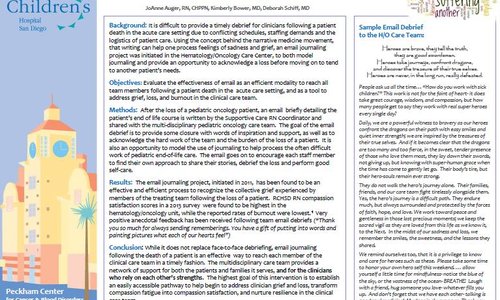 It is difficult to provide a timely debrief for clinicians following a patient death in the acute care setting, due to conflicting schedules, staffing demands and the logistics of patient care.  Using the concepts behind the narrative medicine movement, that writing can help clinicians as they process of feelings of loss, the team email debrief offers a moment to pause and remember before moving on to tend to another patient's needs.  After the loss of a pediatric oncology patient, an email detailing the patient's end of life course is written by the Supportive Care RN Coordinator and shared with the entire interdisciplinary care team.  The goal of the team email debrief is to work toward closure and peace, both by summarizing the patient and family's final journey, and acknowledging the hard work of the team and the burden of the loss.
Author
Rady Children's Hospital San Diego
13127 Via Del Toro
Poway, CA 92064
(858) 966-1700
Co-authors
Deborah Schiff, MD
Kimberly Bower, MD
Register Now
Register for the 2018 CAPC National Seminar and Pre-Conference Workshops by September 24 for Early Bird pricing.
Learn More and Register